Boosting renewable skills in Sri Lanka
Glasgow Caledonian University has announced the development of a new energy project to help Sri Lanka enhance its workforce shortages in renewable energy skills. Yoana Cholteeva finds out more about the three-year collaboration between ten universities and institutions.
R
esearchers from the Scottish Glasgow Caledonian University (GCU) have recently been tasked with helping Sri Lanka upskill its renewable energy workforce so it can reach its threshold of renewable-source energy generation.
The university will receive a share of almost €1m to help build skills in the designing, commissioning, and maintaining of renewable energy projects in the South Asian country, with a specific focus on solar and wind energy generation.
The three-year project has been funded by Erasmus+, the EU student exchange programme for education and training, and is worth £900,000, with GCU having allocated £124,000.
Objectives and partners of the renewable project
In collaboration with partners from a range of countries, GCU's researchers will establish five training hubs across Sri Lanka for trainee technicians, engineers, and project managers to build upon their commissioning, design, and operating skills.
The pitch for the research project was led by Professor Mohamed Emad Farrag from GCU's School of Computing, Engineering, and Built Environment, joined by his colleagues – Dr Ahmed Aboushady, Dr Muditha Kulatunga, and Dr Azmy Gowaid.
Farrag says: "The fund was created for a project contracted for over three years, starting on 1 January 2021 and ending on 31 December 2023. Over this period, equipment for the centres will be procured, training courses will be developed, and the first cohort will complete their training."
/ GCU's researchers will establish five training hubs across Sri Lanka. /
The project will develop its own training programme on photovoltaics and other renewable sources in order to meet known and identified industry requirements. It will focus on quality teaching, providing continuous professional development courses for those seeking skills, and updating skills and knowledge required for work in the renewable energy sector.
As individual country standards often appear to differ from one another, one of the project's objectives will be to document and address differences in theoretical and practical training between Sri Lanka and the EU, while demonstrating the benefits of a cross-disciplinary energy related curriculum.
In addition to working with Sri Lankan partners, the project involves the collaboration of universities from the UK, Italy, and Romania. The full consortium includes: Northumbria University, UK; Politecnico di Torino, Italy; and the University Valahia of Targoviste, Romania, along with the Sri Lankan partners: the University of Ruhuna, the Sri Lanka Sustainable Energy Authority, the Sri Lanka Energy Managers Association, the University of Jaffna, the University of Peradeniya, the South Eastern University of Sri Lanka, and the Sri Lanka Institute of Information Technology.
Resolving Sri Lanka's renewable energy issues
Clarifying the problems that this project is aiming to solve, Faragg explains that "the ultimate objective of the project is to tackle economic and social issues that are common in developing countries".
"Local people will be given the opportunity to investigate their renewable resources and take advantage of the centre to install green sources. Issues like gender equality and income generation will [also] be in the core focus of the project delivery," he adds.
Another issue that the collaboration targets is the surging electricity demand in Sri Lanka and the inefficiency of its current renewable generation.
/ Local people will be given the opportunity to investigate their renewable resources and take advantage of the centre. /
According to research preceding the project establishment, total primary energy supply in Sri Lanka has increased substantially (by an average of 16% between 2010 and 2017), and recorded electricity demand is growing by 6% per annum. As a result of this spike during the last decade, data has indicated a considerable local impact in terms of energy supply security, air pollution, environmental pollution, water scarcity, damage to national heritage, and a direct impact on human life. For this reason, the project will work to help maintain lower energy intensity in the country, while accelerating economic growth.
The GCU operation is also dedicated to addressing the sustainable development challenges caused by Sri Lanka's almost three decades of civil war, between the Sinhalese and the minority Tamils, which ultimately came to an end in 2009.
As a result of the long internal conflict, the lack of development in infrastructure facilities within the Northern Province and the Eastern Province of Sri Lanka has created significant differences between the two areas and the rest of the country. This, in turn, has directly affected skill labour availability in the conflict-affected areas and created a living standard gap.
To help tackle this, the project is planning a comprehensive gap analysis of the renewable energy sector's skill shortages, solar irradiance, and wind speed profile, amongst other types of evaluations.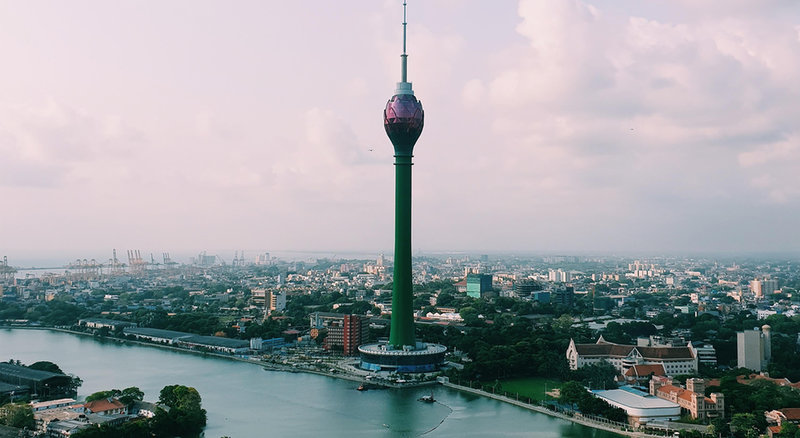 Aligning Sri Lanka with the UN's sustainable targets
A major target that the project is hoping to contribute to is the alignment of Sri Lanka with Goal 7 of the Sustainable Development Goals of the UN, ensuring optimal access to electricity for all by helping reduce the country's dependence on fossil fuels to below 50% of the primary energy supply by 2030.
Furthermore, the national energy policy of Sri Lanka has established another objective, the reduction of specific energy use across all end-uses by 20% of its 2015 level, by 2030. This reflects the country's vision of achieving carbon neutrality as per the Paris Agreement and a complete transition of all energy value chains by 2050.
According to a joint study conducted by the UN Development Programme and the Asian Development Bank, Sri Lanka is currently well-positioned and on track to meet its entire current and future electricity demand through judicial use of renewable energy by 2050.
/ Electricity storage-based solutions should provide instantaneous firm power of 3,600MW and energy storage capacity of 15,000 MWh. /
The report, 'Assessment of Sri Lanka's Power Sector: 100% Electricity Generation through Renewable Energy by 2050', indicates that in 50 years' time, the country's installed electricity generation capacity demand will increase from the current 3,700MW to about 34,000MW.
The data also suggests that this demand could be met by producing 15,000MW from wind energy and about 16,000MW from solar energy. The balance capacity could be met by hydro and biomass-based power plants.

Further to the addition of renewables-based electricity generating sources, the study has identified the need to introduce electricity storage-based solutions, which should provide instantaneous firm power of 3,600MW and energy storage capacity of 15,000 MWh to ensure stability of the electricity grid. In addition, integration of micro smart grid-based innovative solutions could be envisaged.
Despite its relatively recent internal conflicts and existing infrastructure hurdles, current studies, paired with the dedicated efforts of the European-funded GCU project, now give hope that Sri Lanka could not only meet its net-zero targets soon, but also set a good example for other countries on the continent to follow.