Inside the world's largest dam-based floating solar power project
A floating PV solar array planned for operation at a dam in South Korea will be the world's largest constructed at such a facility. Heidi Vella spoke to the team to find out more about the project and the future potential of such technology.
Through the use of advanced smart grids, the Swedish district of Hyllie is blazing a trail for "prosumer" culture. Andrew Tunnicliffe delves into the future of the smart city and how Sweden could prove to be a testbed for cities around the world.
F
loating solar technologies make use of unoccupied bodies of water, such as lakes or artificial basins, to locate and produce solar power. Proponents of the technology say that it could scale up the use of renewable power significantly, particularly in countries that have large populations and limited spare land, such as in many Asian nations.
In fact, demand for floating solar is growing exponentially. According to a World Bank report, 'Where Water Meets Sun', installed capacity increased more than 100-fold from 2014-2018, to 1.1GW.
The biggest of its kind to be given the green light so far is a 41MW floating photovoltaic (PV) power plant at the Hapcheon Dam in South Korea. Seoul-headquartered Q-CELLS won approval for the project from K-water (the Korea Water Resources Institute) in November and say it will become the world's largest floating PV constructed on a dam, as well as the largest floating PV plant permitted in Korea.
The plant will produce enough solar electricity to meet the annual power needs of 60,000 people, which is more than the actual 44,434 population of Hapcheon-gun, the county in which it will be sited. All electricity from the project will be sold to the local power utility.
The merits of floating solar
The first ever floating PV system was built in 2007 in Aichi, Japan. Since then, several other countries, including France, Italy, the Republic of Korea, Spain, and the US have tested small-scale systems.
According to Ian Clover, manager for corporate communications at Q CELLS, when compared to onshore installations, floating solar plants can, in the right conditions, generate up to 10% more power than a comparable land-based array.
"This is because the cooling effect of the water ensures solar modules do not operate at a higher than optimal temperature, thereby ensuring peak power output is more easily achieved," he explains.
Furthermore, floating solar plants, he says, are highly unlikely to encounter any third-party shading, which means they can enjoy "longer, uninterrupted peak performance than many onshore plants".
At the Hapcheon Dam, Q CELLS is planning to install its Q.PEAK DUO Poseidon Edition solar panels, which are specifically developed for floating PV installations and to endure high temperature and high humidity environments. Testing conditions for these modules include exposure of more than 3,000 hours in an environment of 85°C and 85% relative humidity.
The design of the arrays for the actual Hapcheon Dam site is inspired by the plum blossom, a symbolic flower of Hapcheon-gun.
/ The cooling effect of the water ensures solar modules do not operate at a higher than optimal temperature. /
Besides the decorative display, Clover says that the general layout of a floating PV system is similar to land-based systems. However, the arrays and inverters are mounted on a floating platform and the direct current electricity generated is gathered by combiner boxes and converted to alternating current by inverters.
He adds that from an engineering perspective, installing the Hapcheon Dam floating solar power plant offered no additional or unique challenges for Q CELLS. In fact, the technology is well suited to a dam.
"Adding floating solar to dams makes sense because dams are generally large, open bodies of water with good road access and pre-existing infrastructure," explains Clover.
However, as is customary, the company did have to conduct environmental stability tests to ensure the installation would not adversely impact on the dam or its ecological balance.
"Monitoring tests showed water quality is unaffected, and there is no significant difference between the water area covered by the power plant and the uncovered water area," he explains.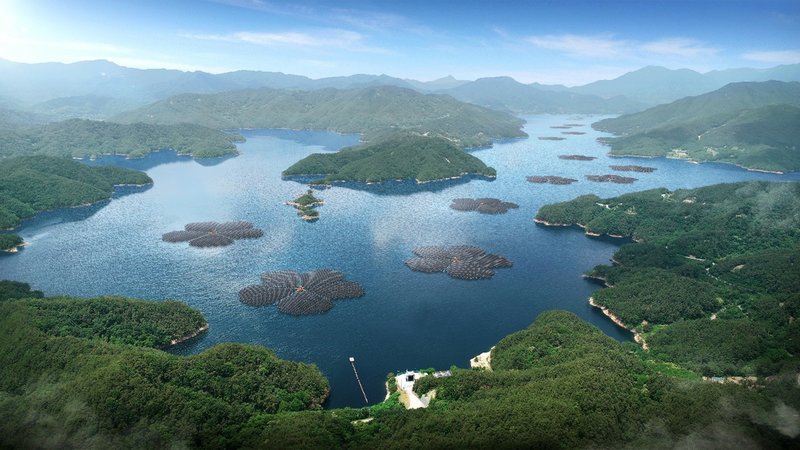 A bird's-eye view of the Hapcheon Dam floating solar power plant. Credit: Q CELLS
Increased cost implications
However, there are some additional costs associated with the installation process of a floating solar plant. For example, specially trained installers are required to work on and with water.
"These modules [Q.PEAK DUO Poseidon Edition] cost a little more than standard modules, but for long-term OPEX viewpoint, they make perfect financial sense," explains Clover.
"Once the solar plant is up and running, operations and maintenance costs may differ according to location, but as more and more floating solar plants are installed around the world, any cost difference between floating and onshore will be closed," he adds.
However, experts say that the exact magnitude of these performance advantages, and whether they outweigh any increase in capital costs, has yet to be confirmed by larger installations.
Molly Cox, solar PV technology systems and operations analyst at Wood Mackenzie, wrote that although costs will be lowered by the increasing number of larger project sizes, which has been climbing steadily since 2015 and is expected to continue rising, lack of empirical data on system performance over time compounds the challenge.
/ The technical due diligence for floating solar projects typically takes longer compared to a ground mount array. /
"As a result, the technical due diligence for floating solar projects typically takes longer compared to a ground mount array of the same size and location, contributing to higher all-in costs," she said.
"These cost challenges, however, will respond to the growth of the market and increasing project scale -which is exactly what we expect to see in the floating solar market over the next few years."
A recent report by DNV GL, an international accredited registrar and classification society, notes that it sees offshore PV as a complementary technology for offshore wind, with solar panels installed in spaces between wind turbines and connected to their transmission lines. Overall, they expect a floating solar system of approximately 1MW will be linked to each offshore wind turbine in the North Sea from 2025 to 2030.
In June, the company launched a collaborative joint industry project with 14 industry participants to develop the industry's first recommended practice for floating solar power projects.
Future gazing
Q CELLS will begin construction of the Hapcheon Dam floating solar power plant by the end of 2020. But Clover says that the company continues to look out for new and innovative solutions in solar cell and module technology and for "opportunities worldwide to develop large-scale solar power plants, both in the floating space and the onshore space".
The World Bank, in its 2018 report, highlights ample opportunity for floating solar due to the more than 400,000km2 of man-made reservoirs in the world, 'suggesting that floating solar has a theoretical potential on a terawatt scale'.
Meanwhile, analysts at Wood Mackenzie estimate that global floating solar demand will grow by an average of 22% year-over-year from 2019 through 2024. By 2020, it will likely satisfy 2% of global solar demand.