Deals activity: South and Central America sees significant decrease in volume; solar PV remains leading sector
Deals activity by geography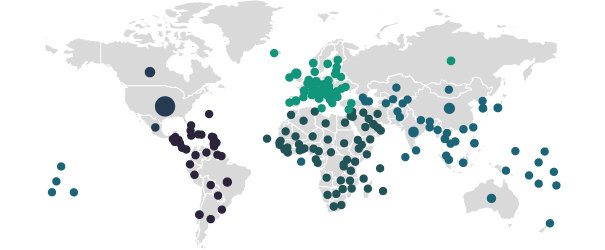 Power industry deals, as captured by GlobalData's Power Intelligence Centre, are down year-on-year (YoY) across all regions.
North America is leading in terms of deal value, but also recorded a decrease in YoY growth in deals volume at -7%. South and Central America, ranking last in terms of deal value, has also suffered the biggest YoY change, with deal volumes at -39%.
The volume of deals recorded by GlobalData also decreased YoY in Middle East and Africa (-21%), Europe (-6%), and Asia-Pacific (-6%).

Deals activity by type
| | | | |
| --- | --- | --- | --- |
| Deal type | Total deal value (US$m) | Total deal count | YoY change (volume) |
| Asset Transaction | 7306947 | 32641 | -2 |
| Debt Offering | 4204118 | 13088 | 27 |
| Acquisition | 2854578 | 12477 | 21 |
| Equity Offering | 1446657 | 7318 | 17 |
| Partnership | 108581 | 5856 | -29 |
| Venture Financing | 63068 | 4613 | -7 |
| Private Equity | 437046 | 2363 | -21 |
| Merger | 276527 | 406 | -88 |
A breakdown of deals by type and volume shows a general downtrend, with mergers down -88%, partnerships down -29%, and asset transactions down -2%. One bright spot was acquisitions' 21% growth. Financing deals have seen a similar downturn, with venture financing down -7% YoY, and private equity down -21%, although equity offerings were up 17% and debt offerings saw growth of 27%.
Deals activity by sector
So early in the year, it is hard to draw notable conclusions from GlobalData's analysis of power industry deals by sector. However, solar PV remains the leading sector by deals volume, following several strong years of growth. Fossil fuels and bipower currently have the lowest number of deals, sitting at 13 each.
Note: All numbers as of 26 January 2021. Deals captured by GlobalData cover M&As, strategic alliances, various types of financing and contract service agreements.
For more insight and data, visit GlobalData's Power Intelligence Centre.
Latest deals in brief
BayWa r.e. sells four wind farms generating 53MW in Germany
BayWa r.e has sold four German wind farms with a combined capacity of 53MW to Encavis Infrastructure Fund II.
Cordelio sells 49% stake in renewable portfolio to Axium Infrastructure
Canada's renewable power producer Cordelio Power (Cordelio) has divested a 49% interest of its renewable portfolio in Ontario to Axium Infrastructure.
Engie and Neoen collaborate on 1GW solar and storage project
French energy companies Engie and Neoen have announced a collaboration to construct a 1GW solar and storage project in south-west France.
Enel Green Power and QIA for joint venture for Sub-Saharan renewables
Enel Green Power has signed an agreement with a Qatar Investment Authority (QIA) subsidiary to form a joint venture for developing renewable projects.
Under the partnership, the parties will build and operate renewable plants in Sub-Saharan Africa.
Duke Energy Renewables acquires solar project from Recurrent Energy
Duke Energy Renewables will acquire a 144MW solar project from Canadian Solar's subsidiary Recurrent Energy.
Rhizen signs oncology drug development deal with Curon
Swiss biopharma company Rhizen Pharmaceuticals has signed an exclusive licensing agreement with Curon Biopharmaceutical to develop and commercialise Tenalisib for oncology in the Greater China region. Tenalisib, a highly selective dual PI3K delta and gamma inhibitor, is currently in Phase II clinical development for haematological malignancies. The US FDA granted fast track and orphan drug designations for the drug candidate Tenalisib as a treatment for relapsed/refractory peripheral T-cell lymphoma and cutaneous T-cell lymphoma.