- ECONOMIC IMPACT -
Latest update: 20 January
After weeks of gradual decline, GDP estimates for many countries have levelled off.
Polls show that employment prospects have consistently improved since July.
The Chinese economy expanded by 6.5% YoY in Q4 2020, taking the full year growth to 2.3%, the slowest rate in more than four decades.
Rating Agency S&P forecasts the economic growth rate of Russia at 2.9% in 2021, following an estimated contraction of 3.5% in 2020.
Impact of Covid-19 on employment outlook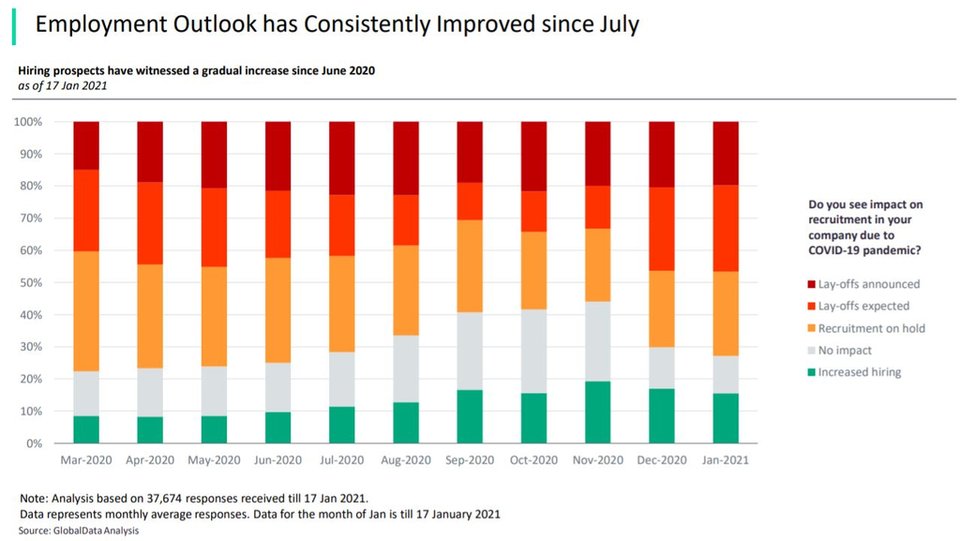 Rockfeller Foundation, a philanthropic organisation, has launched a $1bn Covid-19 recovery fund aimed at increasing investments in gridscale renewables.
DTE Energy has pledged $13m to support customers struggling during the Covid-19 pandemic.
From January-September 2020, generation in Europe was 5.4% lower than the same period in 2019. Renewable generation bucked the trend by growing 9.8%.
Between January–July 2020, US generation was 3.2% lower than the same period in 2019. Renewable and gas both grew in this period.
Electricity generated from renewables made up more than half of Germany's power mix in 2020.
key power market developments