A path to fish-friendly hydropower
A Europe-wide project called FIThydro has been working with research and industrial partners to study the negative effects of existing hydroelectric power plants on fish populations and aquatic habitats to deliver new assessment and decision-making support tools. Yoana Cholteeva finds out more.
W
ith total installed capacity of hydropower technologies in Europe reaching 251GW in 2019, the benefits and drawbacks of hydro technologies have found themselves under a spotlight.
One issue receiving scrutiny now is the impact of hydropower on the environment. To examine this further, the Technical University of Munich teamed up with industrial partners to study the negative effects of existing hydroelectric power plants on aquatic species.
Funded by the European Commission as part of the Horizon 2020 research and innovation programme under grant agreement No 727830, the Europe-wide project FIThydro was established to provide practical solutions and information for energy operators to use as guidelines in order to improve hydropower technologies in a fish-friendly way.
The project, based on co-creation, is running between 2016 and 2021 and is working to develop cost-efficient environmental solutions to avoid individual fish damage and enhance population development.
It is hoped that FIThydro could go some way towards reducing the negative ecological effects so often associated with hydropower, a major objective if the industry is to grow and progress.
Impact of the FIThydro project
The project includes 26 research participants, from 10 European countries, working with 17 existing hydro power plants as test cases. Hydropower plants all over Europe are involved as test sites and prime testing areas include the Alpine Region, the Iberian Peninsula, and Scandinavia.
FIThydro project manager Hany Abo El Wafa says: "Our consortium consists of research partners, industry partners, consultants, small and medium enterprises, and also hydropower operators and energy companies. From the beginning, it was clear that this is a very special project because it brings together very different people and organisations from very different backgrounds."
/ When we think of negative hydropower effects, we always think of the turbine mortality. /
Abo El Wafa emphasises that their main goal is to improve hydropower technologies in Europe while looking past just mortality: "When we think of negative hydropower effects, we always think of the turbine mortality, but it's actually more than this. If you examine impact, you have to look on the wider sets, like fish migration, whether upstream or downstream migration, and habitat."
Initial research experimental tests are conducted at the test sites to evaluate the effects of the different options not covered by desk-work. After this, the results are fed into a risk-based Decision Support System, which is developed for planning, commissioning, and operating hydropower plants.
It is meant to enable operators to fulfil the requirements of cost-effective production, as well as meeting environmental obligations and achieving a self-sustained fish population.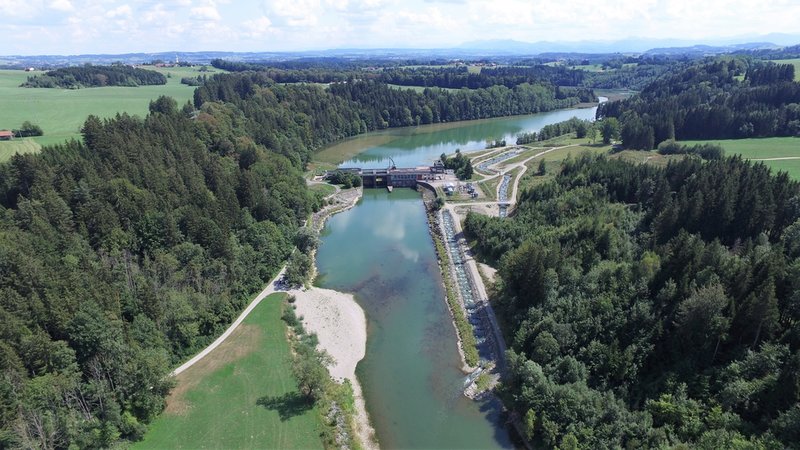 HPP Altusried. Credit: Oliver König.
The need to research and improve hydropower's fish friendliness
According to the independent firm UK Renewable Energy Hub, large scale hydroelectric technologies could have a big impact on wildlife, as they can destroy habitats that will need to be replaced when water builds up in reservoirs.
For this reason, obtaining permission from the UK Environment Agency for hydropower can be a long process, taking up to a year. For this reason, the process can start with a pre-application before the full formal application.
The UK Renewable Energy Hub advises that there are many considerations for operators to keep in mind when it comes to the environmental friendliness of hydropower technologies.
For example, with run-of-the-river systems, one needs to take into account "the effect of the plant on water life, as well as the impact that noise and construction will have on local wildlife". There are also similar concerns with tidal hydro, especially as the construction has to be quite large in order to generate the power required.
/ Obtaining permission from the UK Environment Agency for hydropower can be a long process, taking up to a year. /
Another notable consideration is the impact that the system will have on the local fish population. Fish that pass through turbines can be seriously harmed so, as part of the assessment, the Environment Agency checks that operators have made provision for this too.

This often takes the form of a screening before the turbine and the construction of fish passages, which allow migrating fish to bypass the obstruction caused by the system.
The recent climate ambitions of European countries make it even more pressing to investigate the ecological sustainability of hydropower technologies, as rapid expansion of renewable energies in the following three decades could create the need for further technology improvements.
"That's why we try to enhance the knowledge, develop new technologies, and also give people context of where these technologies can be used best," Abo El Wafa says.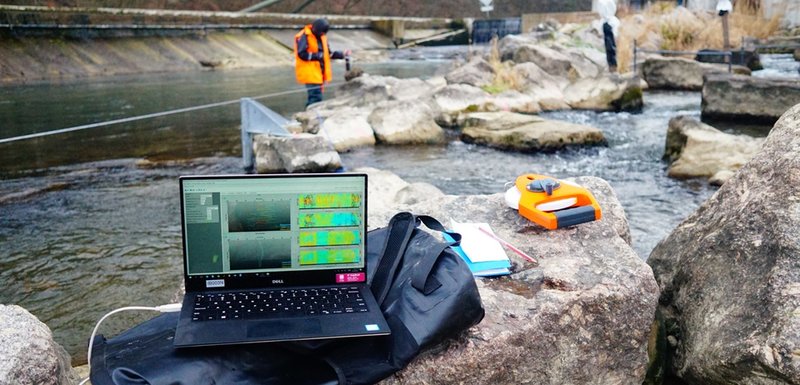 Schiffmühle, Centre for Biorobotics. Credit: Jeffrey Tuhtan TUT.
Hydropower problems and solutions
The results of the almost finalised FIThydro research have indicated that "hydropower production is not a highly-contested topic for local residents in the studied regions". However, conflicting views still exist on several issues, including the ecological effects of hydropower, plant ownership, and changes in electricity prices.
While these issues may not be as significant, they might drive public debate on hydropower and influence public acceptance. The research encourages hydropower operators, planners, and politicians to be aware of these issues and consider them before taking executive decisions.
The project's initially set timeline ran between 2016 and 2020. However, due to Covid-19 related disruption, FIThydro was granted six extra months to wrap up its work in the first half of 2021.
When it comes to the solutions that have so far emerged from the project, its near-end product consists of an extensive database that includes solutions, tools, and devices, all dependent on particular issues.
/ Luckily, we didn't have a situation where someone is doing greenwashing to just look good. /
After identifying their problem, operators can access FIThydro's tools category to explore some of the available devices enhanced and developed by the project, such as a barotrauma detection system or bedload monitoring system. From there, they can research and incorporate the most suitable solution for their particular problem.
Talking about openness to the research from hydro technology manufacturers and energy companies, Abo El Wafa says that the project was based on co-creation and collaboration and the fact that the operators willingly came to join the project, after an upfront and clear initial brief, led to a fruitful and enjoyable experience.
"Luckily, we didn't have a situation where someone is doing greenwashing to just look good. They were sincerely interested to cooperate," Abo El Wafa says.
With the rise of more European-backed collaborative projects such as FIThydro, it is hoped that the rapid acceleration of renewable technologies will not only be beneficial for humans, but every effort will also be invested to prevent technologies from disrupting aquatic species and ecosystems.