- ECONOMIC IMPACT -
Latest update: 17 February
After weeks of gradual decline, GDP estimates for many countries have levelled off.
Polls show that employment prospects have consistently improved since July.
The Japanese economy expanded by 3% (YoY) in Q4 2020, however economic growth for the full year shrank by 4.8%.
The Conference Board forecasts the economic growth rate of the US at 2% (annualised rate) in Q1 2021 and at 4.4% and 3.1% for 2021 and 2022.
Impact of Covid-19 on employment outlook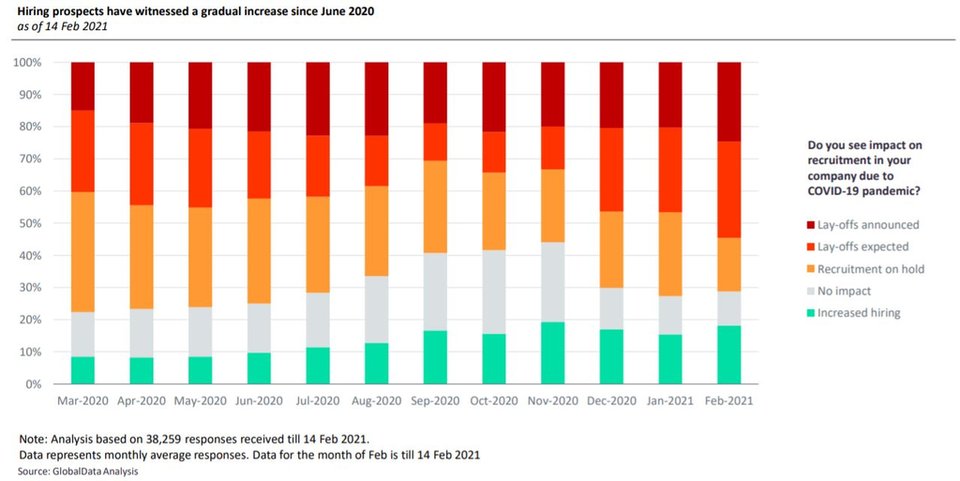 - SECTOR IMPACT: POWER -
Latest update: 3 February
The Rockfeller Foundation, a philanthropic organisation, has launched a $1bn Covid-19 recovery fund aimed at increasing investments in gridscale renewables.
DTE Energy has pledged $13m to support customers struggling during the Covid-19 pandemic.
Renewable energy capacity addition for full year 2020 is expected to be 4% higher than in 2019. Renewable power generation grew by around 7% and provided 28% of global electricity, up around two percentage points versus 2019.
Generation from wind and solar PV grew by more than 10% and 20% respectively, and contributed more than 9% of global electricity supply, up one percentage point from 2019.
Global coal power generation is expected to drop by over 5% in 2020, the largest decrease ever. The strongest impacts were felt in the EU, with a decline of over 20%, and in the US with a 19% decline.
key power market developments