- ECONOMIC IMPACT -
Latest update: 15 December
China's GDP hit around $18tn in 2021, accounting for approximately 18% of the world's total wealth.
In 2020, global debt rose to $281tn to finance pandemic-driven expenses.
In the UK, between January and November 2021, GDP growth rate increased from around 5.5% to 7%.
The overall value of the stimulus packages utilised in the US has reached $7.8tn, 37.2% of total GDP.
Impact of Covid-19 on eCONOMIC RECOVERY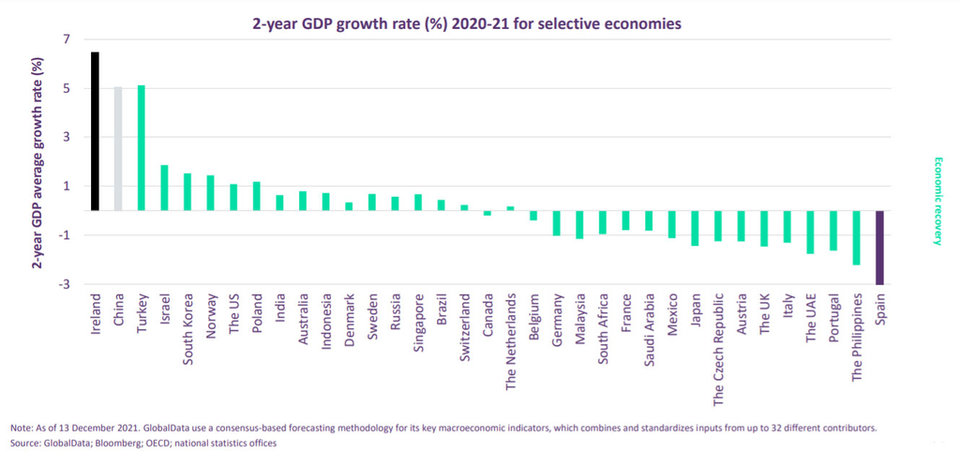 - SECTOR IMPACT: POWER -
Latest update: 1 December
COAL
In 2020, coal demand dropped by 220 million tonnes of coal equivalent, or 4%. In 2021, coal demand has rebounded strongly, reversing the declines in 2020, though with major geographic variations.
GAS
Continued lower prices and rapid growth in economies across Asia and the Middle East should drive growth of 3% in gas demand in 2021. Global natural gas demand in 2021 is projected to rise 1.3% above 2019 levels.
OIL
In 2021, oil demand is expected to rebound by 6%, faster than all other fuels. Despite the strong rebound, oil demand remains 3% (3.1 mb/d) below 2019 levels.
RENEWABLES
Generation from wind and solar PV is set to grow by 17% in 2021, up from 16% in 2020. Renewables usage grew by 3% in 2020, largely due to an increase in electricity generation from solar PV and wind of 330TWh.