Power industry deals in Q3 2019 total $27.14bn globally
Total power industry deals for Q3 2019 worth $27.14bn were announced globally, according to GlobalData's deals database.
The value marked a decrease of 37.6% over the previous quarter and a drop of 19.7% when compared with the last four-quarter average of $33.8bn.
In terms of number of deals, the sector saw a drop of 0.7% over the last four-quarter average with 441 deals against the average of 444 deals.
In value terms, North America led the activity with deals worth $10.15bn.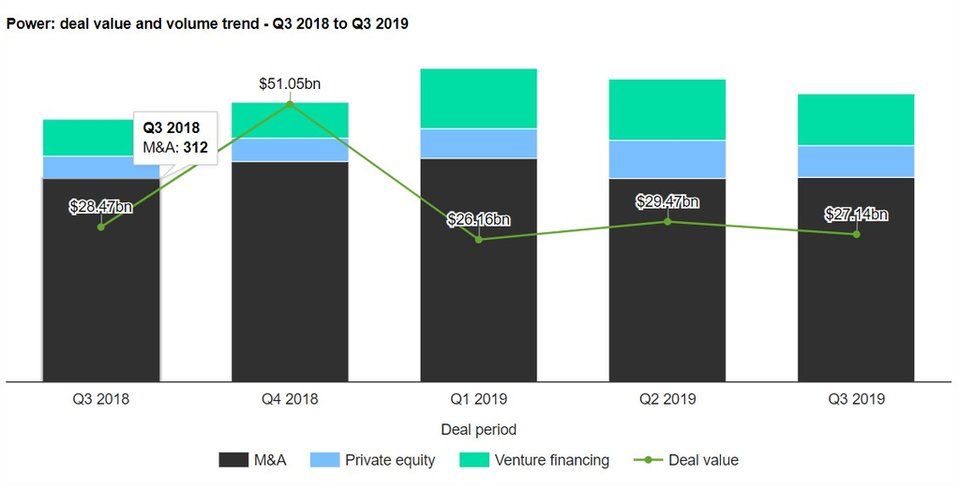 The top five power deals accounted for 44.8% of the overall value during Q3 2019.
The combined value of the top five power deals stood at $12.17bn, against the overall value of $27.14bn recorded for the month.
The top five power industry deals of Q3 2019 tracked by GlobalData were:
1) China Yangtze Power International (Hong Kong)'s $3.59bn acquisition of Inland Energy SAC, Luz Del Sur SAA and Tecsur

2) The $3.15bn acquisition of Radius Elnet by SEAS-NVE Holding
3) Ontario Power Generation's $2.18bn asset transaction with TransCanada Energy
4) The $2bn asset transaction with Invenergy by Public Serviceof Oklahoma and Southwestern Electric Power
5) Antin Infrastructure Partners' asset transaction with Veolia Energy North America Holdings for $1.25bn.
UK power industry sees a drop of 16.2% in deal activity in Q3 2019
The UK power industry saw a drop of 16.2% in overall deal activity during Q3 2019, when compared with the last four-quarter average, according to GlobalData's deals database. A total of 31 deals worth $1.15bn were announced in Q3 2019, compared to the last four-quarter average of 37 deals. M&A was the leading category in the quarter with 20 deals which accounted for 64.5% of all deals. In second place was private equity with six deals, followed by venture financing with five transactions, respectively accounting for 19.4% and 16.1% of overall deal activity in the country's power industry during the quarter.
Mitsubishi-led consortium to buy Eneco for €4.1bn
A consortium formed of Japanese companies Mitsubishi and Chubu Electric Power Company has agreed to acquire Dutch energy company Eneco for €4.1bn, beating bids led by Shell and Rabobank respectively. As part of the deal, Mitsubishi will take an 80% ownership stake in the company, with Chubu taking the remaining 20%. The deal will be funded by both companies from existing cash resources. Mitsubishi and Chubu cited Eneco's long-term commitment to sustainable energy as the key reason for the transaction.
Facebook agrees power purchase agreement with Apex Clean Energy
Global social media giant Facebook has agreed to purchase power from Apex Clean Energy's Altavista solar farm in the state of Virginia when it becomes operational in 2020 as part of a power purchase agreement (PPA). Altavista solar farm will have a capacity of 80MW when completed, with Facebook's PPA accounting for 61.6MW of the total. It will be Apex's largest solar project and its first renewable energy project on the East Coast of the US.
International Finance Corporation to fund solar farms in Mexico
The North American Development Bank (NADB) and the International Finance Corporation (IFC) have agreed to provide $200m in green loans to Infraestructura Energética Nova (IEnova) to fund four new solar power plants in Mexico, which will have a combined capacity of 376MW. NADB will provide $100m for the construction of a single solar plant, the 125MW Don Diego plant in Sonora, North-West Mexico.
Macquarie Capital invests in its first biogas project in the UK
Energy investment group Macquarie Capital Principal Finance has purchased a majority share in UK-based biogas company BioCow for an undisclosed fee. BioCow uses anaerobic digestion: a system where animal, food or agricultural waste is turned into biogas in an anaerobic digester. From this Biocow uses the biomethane to produce heating for homes and businesses as well as green transport fuel.