Maritime hydrogen: inside Yanmar Power Technology's new hydrogen power system
Japanese maritime supplier Yanmar Power Technology has trialled a system for high-powered hydrogen refuelling that it says can enable three-times longer cruising. Heidi Vella investigates the technology.
I
t takes a lot of energy to haul a ship through the water, which is why the maritime industry is often described as one of the final frontiers of decarbonisation. The gargantuan size of industrial vessels and the long distances they typically travel mean they're not easily powered by green technologies such as lithium batteries.
Yet considering the industry is responsible for around 2.5% of the world's total CO2 emissions and around 90% of everything people consume is moved by sea, there is a desperate need to find solutions.
Hydrogen is thought to be the answer. Technology providers are racing to build vessels that replace polluting hydrocarbon-based bunker fuel with hydrogen fuel cell technology. Yanmar Power Technology (YPT) is one.

The Japanese-based manufacturer and supplier recently completed what it says is the world's first 70MPa high-pressure hydrogen refuelling of a ship using a demonstration test boat equipped with a hydrogen fuel cell system.
The higher refuelling pressure means more fuel can be added to the tanks to increase the cruising time of vessels and in turn improve the commercial viability of a range of hydrogen fuel cells at sea.
Technological innovation
The new system, tested in collaboration with Toyota Tsusho Corporation, using a specially licensed high-pressure facility and a newly-developed prototype long hydrogen refuelling hose, resulted in more than three times longer cruising time compared to the previous process.
This kind of technology has already been deployed to the automobile industry for fuel cell vehicles, buses and trucks but the length of the refuelling hose of these applications is too short – often around 3m – to serve ships that are not set close to onshore facilities.
"To adapt to this, we've demonstrated a longer hose – around 30m – so it can reach to a ship on the quay from the onshore refuelling facilities, and executed a safe refuelling procedure," says a YPT spokesperson.
/ To adapt to this, we've demonstrated a longer hose – around 30 meters – so it can reach to a ship on the quay from the onshore refuelling facilities. /
The trial used a Mobile Hydrogen Station refuelling system, suitable only for fuel cell vehicles, and a YPT demonstration boat that was 38ft in length and carried eight hydrogen tanks. During the pilot, researchers had a couple of intervals to fill-up hydrogen into the refuelling system, which verified the configuration and that it could be used for refuelling vessels. However, the system needs to be scaled up for practical operation, says the spokesperson.
The system, once finished, will be installed into a 300kW class maritime fuel cell system that the company is developing based on Toyota's MIRAI fuel cell modules.
This type of technology is in demand from its customers, says YPT, and this trial will support market deployment of hydrogen fuel cell systems as well as the study of hydrogen refuelling infrastructure for ships. It also supports Japan's Ministry of Land, Infrastructure, Transport and Tourism Roadmap to Zero Emissions from International Shipping established in March 2020 which aims to deploy the first-generation "zero-emission ship" by 2028.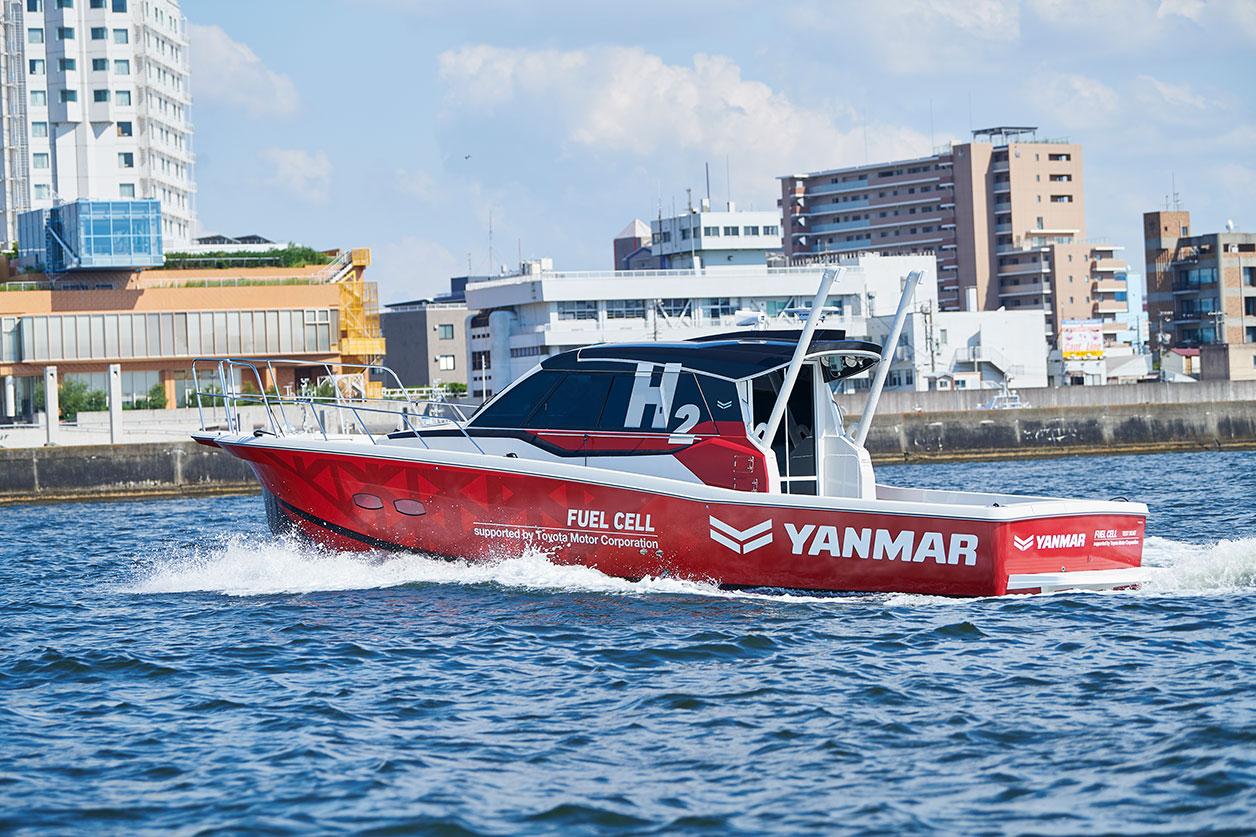 Credit: YPT
Sailing towards commercialisation
Japan is one of the major players in global shipping and shipbuilding sectors and hopes to actively contribute to the International Maritime Organization's target of reducing total annual greenhouse gas emissions from international shipping by at least 50% by 2050 compared to 2008 levels.
Japan is also keen to develop hydrogen as an energy fuel to end its overreliance on overseas fossil fuels, which account for around 98% of automobile fuels. It also plans to cut harmful emissions by 26% to 2030 and 80% by 2050.
YPT aims to obtain approval from classification societies so that the refuelling system can be installed in various types of ships with global customers, towards a planned launch to market in 2023. The company says that although the demonstration verified that 70MPa high-pressure hydrogen refuelling of a ship is possible, there are still things to be investigated and developed for deployment.
"For example, the refuelling protocols such as pressure increase rates need to be further investigated and optimised," says the spokesperson. "Also, the longer hose we used is a prototype and more sophisticated commercial products will have to be developed."
/ The refuelling protocols such as pressure increase rates need to be further investigated and optimised. /
YTP is one of several companies making progress developing hydrogen systems for refuelling shipping vessels, all of which are mostly for the small boat sector, which experts believe will act as a proving ground to scale up the technology for bigger merchant vessels.
Last June, CMB Tech opened what it says is the first multimodal hydrogen refuelling station in Antwerp, Belgium to produce green hydrogen for ships, tube trailers, cars and buses. It previously launched the Hydroville in 2017, which is a hydrogen-powered passenger ship.
US-based Switch Maritime also announced the first hydrogen refuelling of its new 75-passenger ferry in November 2021. The vessel, called the Sea Change, received hydrogen into its 242kg tanks on the upper deck, and uses hydrogen in fuel cells to produce electricity to power electric motors for distances up to 300 nautical miles and speeds of up to 20 knots.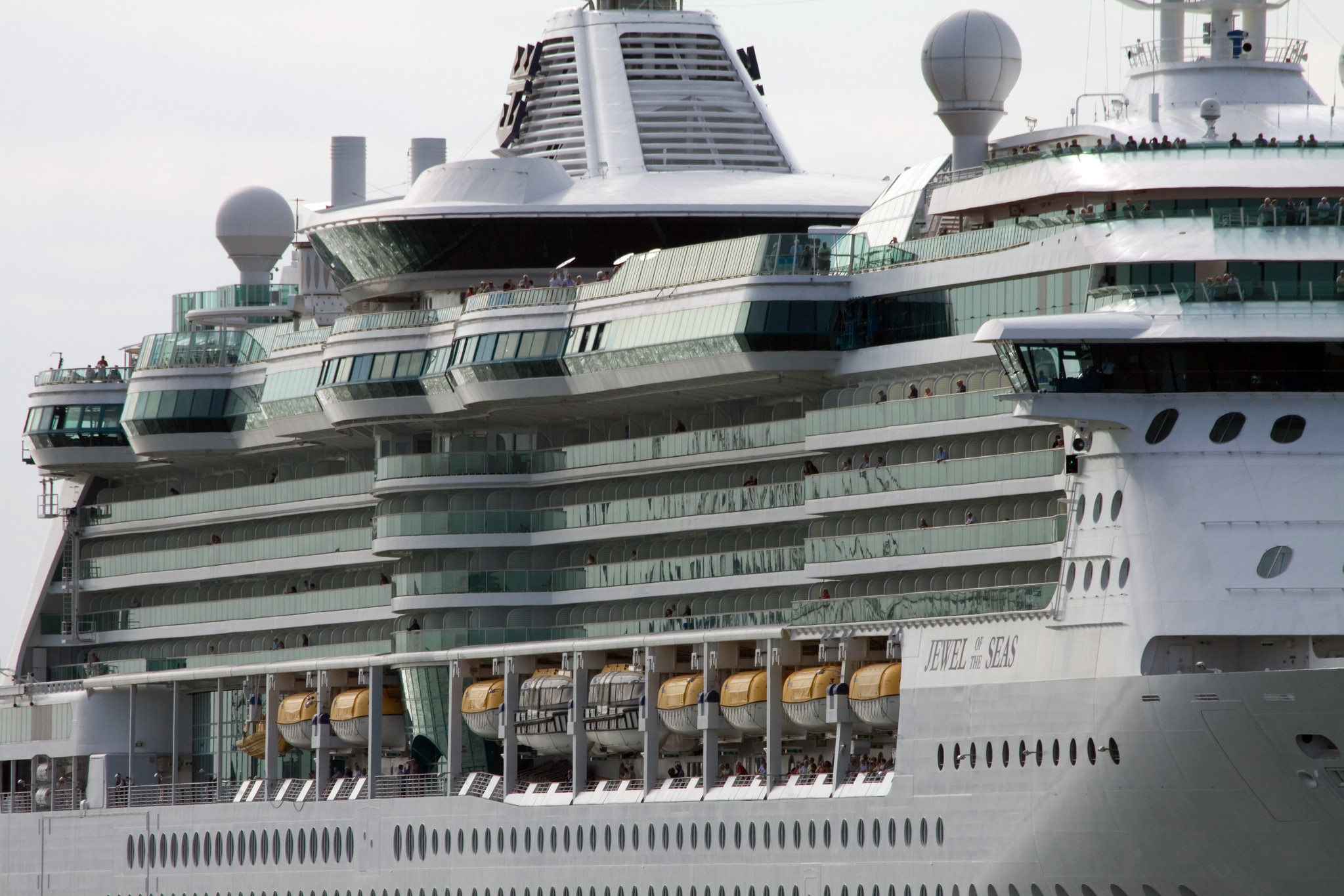 Credit: International Maritime Organization
Looking ahead
Ultimately, YPT aims to power a variety of ships by hydrogen fuel cell systems as well as hydrogen combustion engines. By 2023, it expects there will be hydrogen refuelling stations available to make use of its technology in several ports, with the number of the stations increasing as 'interest grows' in the use of hydrogen powered ships to "transform society to being carbon-neutral".
However, challenges remain ahead of the widespread implementation of hydrogen. Hydrogen has low energy density compared with heavy fuel oil and needs to be stored in liquid form below -253oC using large cryogenic tanks, which are unwieldy for large cargo ships. Critics say that projects such as CMB's only demonstrate that the system is viable on small scales on set routes, and in areas with refuelling infrastructure already in place.
/ Critics say that projects such as CMB's only demonstrate that the system is viable on small scales on set routes. /
The need to act remains pressing, regardless. CO2 emissions of global shipping are on the rise, having increased by around 4.9% in 2021 compared to the previous year, surpassing 2019 levels according to analysis by Simpson Spence & Young.
YPT expects fuel cell-powered ships operating around the world by 2025, which could go some way to reversing this trend.
Main image credit: International Maritime Organization