- ECONOMIC IMPACT -
After months of decline, GDP estimates for many countries have turned positive.
Polls show that concern over the spread of Covid-19 has declined; business optimism remains volatile.
The UK's real GDP grew by 2.3% in April 2021, the fastest since July 2020, with the service sector growing by 3.4% during the month.
According to the OECD, real GDP in G20 area grew by 0.8% in Q1 2021 when compared to the last quarter and reached pre-pandemic levels.
Impact of Covid-19 on employment outlook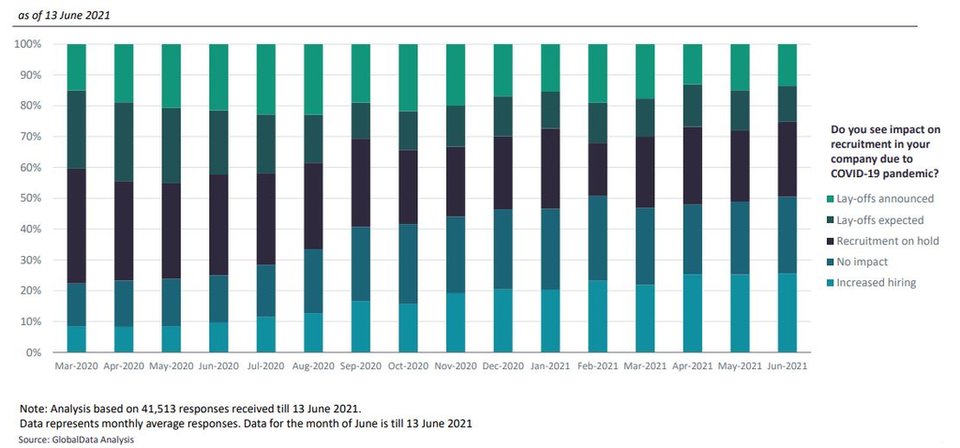 WIND
Generation from wind and solar PV is set to grow by 17% in 2021, up from 16% in 2020.

Two years of rapid growth means that the share of renewables in total electricity generation will reach almost 30% in 2021, up from less than 27% in 2019.
COAL
In 2020, coal demand dropped by 220 million tonnes of coal equivalent, or 4%.

In 2021, coal demand has rebounded strongly, reversing the declines in 2020, though with major geographic variations.
OIL
In 2021, oil demand is expected to rebound by 6%, faster than all other fuels. The last time oil demand increased this rapidly was in 1976. Despite the strong rebound, oil demand remains 3% below 2019 levels.
GAS
The combination of continued lower prices and rapid growth in economies across Asia and the Middle East should drive growth of 3% in gas demand in 2021.

As a result, global natural gas demand in 2021 is projected to rise 1.3% above 2019 levels.
SOLAR
Renewables usage grew by 3% in 2020, largely due to an increase in electricity generation from solar PV and wind of 330TWh.