Nuclear power to dominate Bulgarian power generation mix during 2020–2030
In 2020, electricity demand in Bulgaria stood at 30.9TWh, more than half of which is fulfilled by nuclear power generation. Even during 2000-2030, nuclear power will be the dominant source for power generation in the country. The Bulgarian Government is in talks with the US and Russia for the development of new nuclear power capacity.
As of 2020, the country has only one nuclear power station, known as the Kozloduy nuclear power plant (NPP), which has six units. After the decommissioning of Unit 1 and 2 Kozloduy NPP in 2002 and unit 3 and 4 in 2006, all nuclear power is generated through unit 5 and unit 6.
Bulgaria's electricity market is in transition right now. The government is slowly decreasing its coal power capacity to gradually replace it with renewable power capacity. During this energy shift, the government plans to rely on nuclear power generation to meet the majority of electricity demand.
Nuclear power generation was 15.9TWh in 2020, making its share 44% of total power generation in the country. The share is expected to remain above 40% till 2030.
In January 2021, the Bulgarian cabinet also approved plans for the construction of a seventh unit at the Kozloduy nuclear power plant using Russian-supplied equipment purchased for the Belene project. However, the schedule for this project is still uncertain.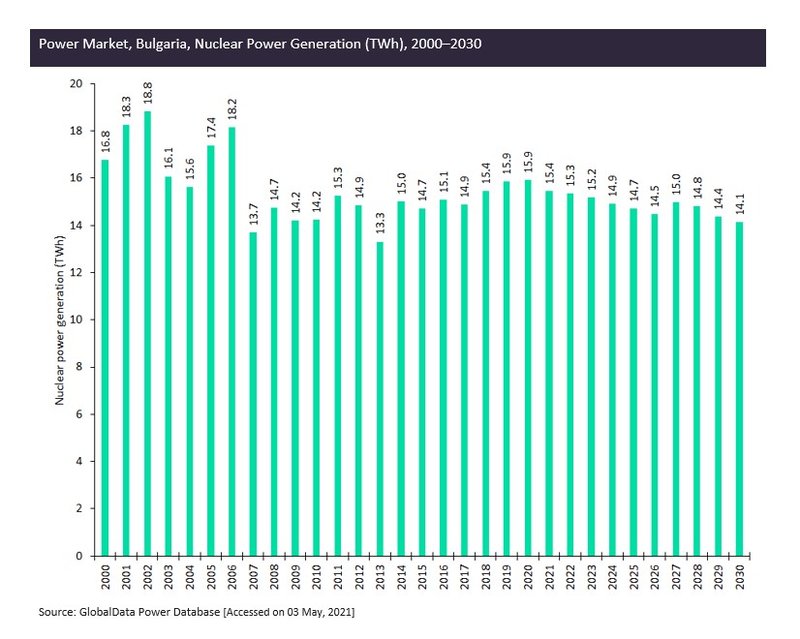 The Belene project in northern Bulgaria included the construction of two 1,000MW units, using Russian equipment. The project's construction started in 2008 but was later suspended in 2012 due to financing problems.
Bulgaria has taken multiple steps toward the development of nuclear power in the country in recent times. The country even joined the Nuclear Energy Agency in January 2021.
Moreover, Kozloduy NPP also signed a memorandum of understanding with US-based NuScale Power for the deployment of NuScale's small modular reactor technology. Such steps provide a clear indication that the government, despite plans to shift toward renewable power, is still keen on developing nuclear power.
Nuclear power also helps the government achieve the EU's carbon neutrality target. As per the final National Energy and Climate Plan submitted by Bulgaria to the EU, the country plans to reduce its greenhouse gas emissions significantly.
Further, as per the updated green deal strategy by the EU, all its member states, including Bulgaria, will reduce GHG emission by 55% by 2030 compared to 1990. The country is expected to reach these targets, as they plan to divert its thermal power generation toward renewable power generation.