Deals activity: South and Central America sees significant decrease in volume; deals down across sectors
Deals activity by geography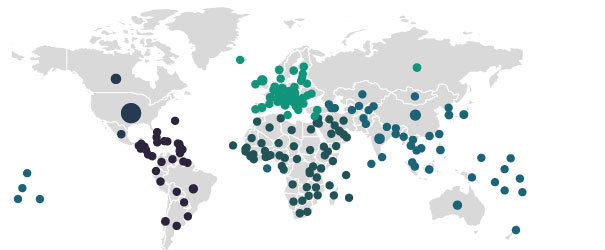 Power industry deals, as captured by GlobalData's Power Intelligence Centre, are down year-on-year (YoY) across all regions.
North America is leading in terms of deal value, but also recorded a significant decrease in YoY growth in deals volume at -10%. South and Central America, ranking last in terms of deal value, has also suffered the biggest YoY change, with deal volumes at -40%.
The volume of deals recorded by GlobalData also decreased YoY in Middle East and Africa (-24%), Europe (-8%), and Asia-Pacific (-7%).

Deals activity by type
| | | | |
| --- | --- | --- | --- |
| Deal type | Total deal value (US$m) | Total deal count | YoY change (volume) |
| Asset Transaction | 7294265 | 32485 | -11 |
| Debt Offering | 4196064 | 13073 | 28 |
| Acquisition | 2813186 | 12242 | -8 |
| Equity Offering | 1434713 | 7276 | 4 |
| Partnership | 108117 | 5820 | -43 |
| Venture Financing | 62937 | 4578 | -25 |
| Private Equity | 404100 | 2258 | 3 |
| Merger | 260946 | 364 | -95 |
A breakdown of deals by type and volume shows a general downtrend, with mergers down -95%, partnerships down -43%, asset transactions down -11%, and acquisitions' down by -8%. Financing deals have fared slightly better, with venture financing down -25% YoY but equity offerings up 4%,, private equity growing by 3%, and debt offerings seeing growth of 28%.
Deals activity by sector
The most notable development apparent in GlobalData's analysis of power industry deals by sector is the decrease of deals across all sectors. Solar PV remained the leading sector by deals volume after several strong years of growth but also saw a decline of roughly 150. Hydro saw the lowest decline in its total volume, with a drop of roughly 60.
Note: All numbers as of 04 January 2021. Deals captured by GlobalData cover M&As, strategic alliances, various types of financing and contract service agreements.
For more insight and data, visit GlobalData's Power Intelligence Centre.
Latest deals in brief
Canadian Solar sells solar portfolio in Italy to Falck Renewables
Photovoltaic modules manufacturer Canadian Solar has sold the remaining 30% stake in Big Fish SPV and Iron SPV solar projects to Falck Renewables.
YIT sells wind power project rights to Ålandsbanken in Finland
Finnish construction firm YIT has announced the sale of project rights of its Murtomäki wind farm to Ålandsbanken Wind Power Fund.
Broad Reach acquires solar and wind projects from Invenergy in US
Independent power producer Broad Reach Power has acquired two US renewable projects from project developer Invenergy, for an undisclosed sum.
RWE to sell stake in four US onshore wind farms to Algonquin
German energy company RWE has signed an agreement to divest 51% stake in four onshore wind facilities in Texas, US, to Algonquin Power & Utilities' subsidiary for $600m.
SPower acquires solar projects from National Grid Renewables in New York
Independent power producer sPower has announced the acquisition of nearly 1GW of solar power projects in New York from National Grid Renewables.
Rhizen signs oncology drug development deal with Curon
Swiss biopharma company Rhizen Pharmaceuticals has signed an exclusive licensing agreement with Curon Biopharmaceutical to develop and commercialise Tenalisib for oncology in the Greater China region. Tenalisib, a highly selective dual PI3K delta and gamma inhibitor, is currently in Phase II clinical development for haematological malignancies. The US FDA granted fast track and orphan drug designations for the drug candidate Tenalisib as a treatment for relapsed/refractory peripheral T-cell lymphoma and cutaneous T-cell lymphoma.