- ECONOMIC IMPACT -
Latest update: 16 December
After weeks of gradual decline, GDP estimates for many countries have levelled off.
Polls show that employment prospects have consistently improved since July.
According to the World Trade Organization, merchandise exports declined by 21% YoY in Q2 2020 and exports of commercial services were down by 30%.
According to Nomura, India is poised to be the fastest growing Asian economy in 2021, with real GDP growth forecast at 9.9%, as compared to China at 9% and Singapore at 7.5%.
Impact of Covid-19 on employment outlook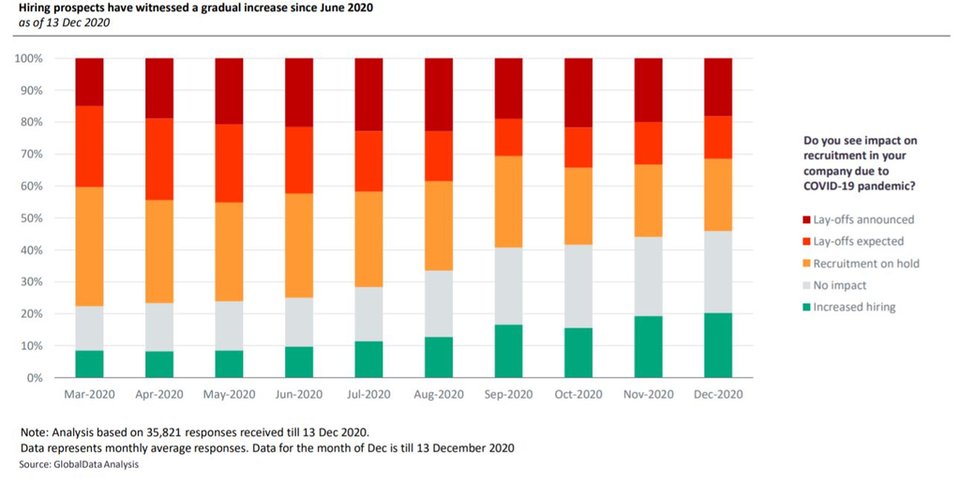 - SECTOR IMPACT: POWER -
Latest update: 2 December
Rockefeller Foundation, a philanthropic organisation, has launched a $1bn Covid-19 recovery fund aimed at increasing investments in gridscale renewables.
DTE Energy has pledged $13m to support customers struggling during the Covid-19 pandemic.
During the period January-September 2020, generation in Europe was 5.4% lower than the same period in 2019. Renewable generation bucked the trend by growing 9.8%.
Between January–July 2020, US generation was 3.2% lower than the same period in 2019. Renewable and gas both grew in this period.
Electricity generated from renewables will make up more than half of Germany's power mix this year.
key power market developments