- ECONOMIC IMPACT -
Latest update: 19 January
GDP growth has endured a turbulent few years, falling to 3.9% in 2021 prior to the pandemic, increasing to 5.9% by the end of the year, and declining again to a forecast of 4.5% for 2022.
Canada and the US are forecast to enjoy the greatest GDP growth in 2022 among American countries, of over 4%, while Brazil is set to have one of the lowest, barely greater than 0%.
The virus has now spread to 199 countries with more than 270 million confirmed cases and more than 5.3
million deaths.
Close to half of 3,511 respondents reported an increase in productivity while working from home, compared to 36% who reported a decline.
Impact of Covid-19 on eCONOMIC RECOVERY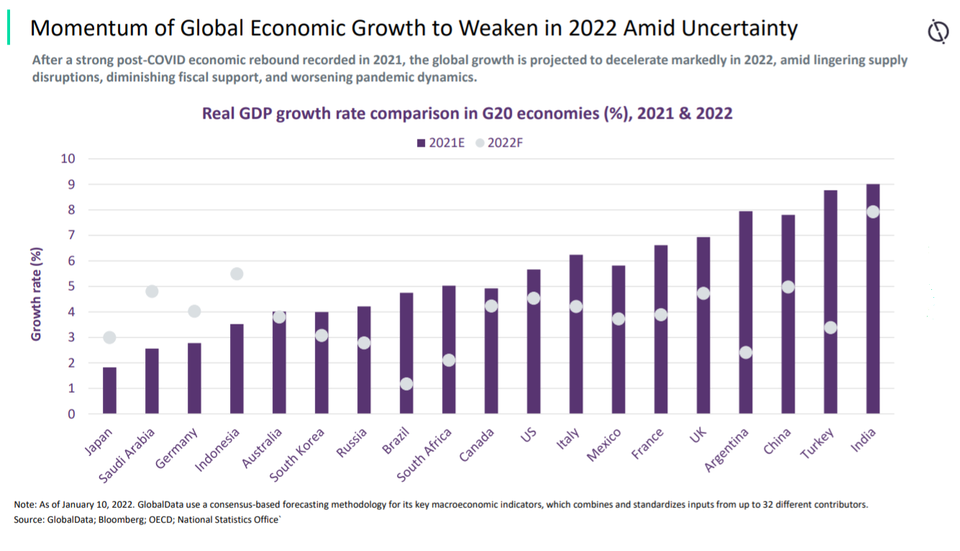 RENEWABLES
Generation from wind and solar PV is set to grow by 17% in 2021, up from 16% in 2020. Renewables usage grew by 3% in 2020, largely due to an increase in electricity generation from solar PV and wind of 330TWh. Two years of rapid growth means the share of renewables in total electricity generation will reach almost 30% in 2021, up from less than 27% in 2019.
COAL
In 2020, coal demand dropped by 220 million tonnes of coal equivalent, or 4%. In 2021, coal demand has rebounded strongly, reversing the declines in 2020, though with major geographic variations.
OIL
In 2021, oil demand is expected to rebound by 6%, faster than all other fuels. The last time oil demand increased this rapidly was in 1976. Despite the strong rebound, oil demand remains 3% (3.1 mb/d) below 2019 levels.
GAS
The combination of continued lower prices and rapid growth in economies across Asia and the Middle East should drive growth of 3% in gas demand in 2021. As a result, global natural gas demand in 2021 is projected to rise 1.3% above 2019 levels.