Nuclear decline: Belgium on track to phase out nuclear power by 2025
Despite representing a significant 39% of Belgium's generation mix in 2020, nuclear power is on track to be phased out by 2025.
GlobalData's latest report, 'Belgium Power Market Outlook to 2030, Update 2021 – Market Trends, Regulations, and Competitive Landscape' discusses the power market structure of Belgium and provides historical and forecast numbers for capacity, generation and consumption up to 2030. Detailed analysis of the country's power market regulatory structure, competitive landscape and a list of major power plants are provided.
The report also gives a snapshot of the power sector in the country on broad parameters of macroeconomics, supply security, generation infrastructure, transmission and distribution infrastructure, electricity import and export scenario, degree of competition, regulatory scenario, and future potential. An analysis of the deals in the country's power sector is also included in the report.
Despite representing a significant 39% of Belgium's generation mix in 2020, nuclear power is on track to be phased out by 2025. The country is expected to begin shutting down the last of its plants this year, to be replaced by wind and solar generation. Belgium currently has seven operational nuclear power reactors, the majority of which are owned and managed by Electrabel and Luminus.
The Doel 3 plant is set to be closed this year, Tihange 2 in 2023, and both the Doel 4 and Tihange 3 plants by 2025. This schedule is in line with a phase-out agreement signed in September 2020 and legislation passed in 2003 that prohibited the building of new reactors. Following these phase-outs, generation is expected to fall to 29.4TWh in 2022, then finally drop to 0GW in 2026.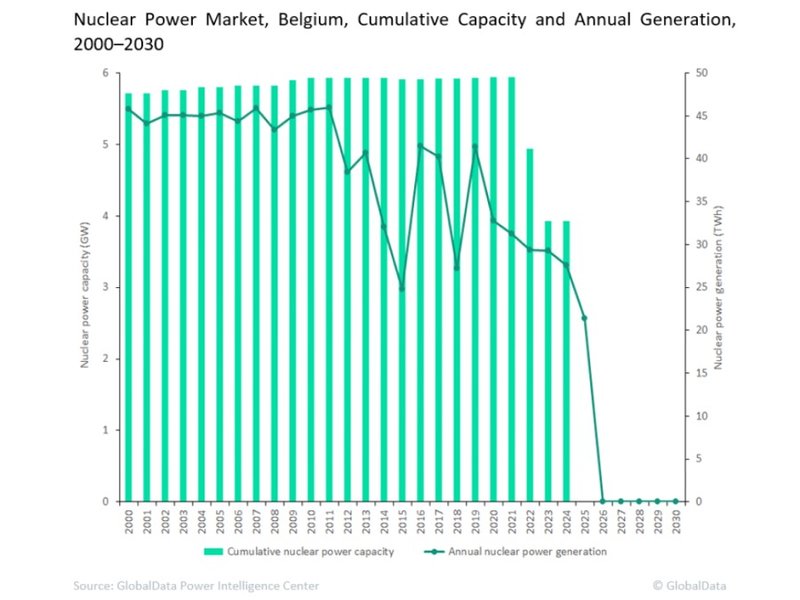 Belgium's nuclear phase-out will pave the way for rapid growth of renewables. The country is expected to overachieve its 2030 targets, beating its 6.5GW wind power target by just shy of 0.85GW and its 6.9GW solar photovoltaics (PV) target by 4.9GW. This growth in renewable power capacity will be aided by the favourable renewable energy policies framed by the Belgium Government, which include the Energy Transition Fund, Green Certificates, and regional energy and climate plans in Brussels, Flanders and Wallonia.
Alongside renewables, Belgium will rely on gas-fired capacity to meet power demand. Since 2009, the Belgian Government had denied permission for the construction of new coal-fired plants in the country. With no coal power plants and minimal oil-fired capacity, the country relies heavily on gas-fired plants for thermal power generation – primarily combined-cycle gas turbine plants, as they are efficient and emit lower amounts of greenhouse gas compared to other thermal technologies.
Rapid phase-out of nuclear power may endanger the supply security of the country. In 2020, nuclear power held a share of 39% in Belgium's generation mix. This share is expected to sharply drop to become negligible in 2026. The country will have to rapidly scale up the deployment of renewable and thermal power capacities to fill this void created by the nuclear power phase-out. Another challenge for the country is the increasing share of renewables in the generation mix.
As renewable sources are intermittent in nature, the amount of power generated from these sources varies significantly, particularly for wind power, in which power generation depends on wind speeds. The country will have to invest significantly in energy storage solutions to overcome the intermittent nature of renewables. Also, the country will have to significantly expand its transmission and distribution network to enable renewable integration into the national grid.