- ECONOMIC IMPACT -
Latest update: 22 November
Southern Asia boasts the highest projected GDP growth rate for 2022, reaching almost 6%, and only marginally down on the 2021 projection of just over 6%.
In the US, the all-index Consumer Price Index rose by 5.4% in the twelve months to September 2021, edging up to a 13-year high from 5.3%.
At the present rate, it will take 303 days to fully vaccinate 85% of the total population of the United States.
According to the OECD, the unemployment rate in OECD nations stood at 5.8% in September 2021, down from 6.0% in August 2021.
Impact of Covid-19 on eCONOMIC RECOVERY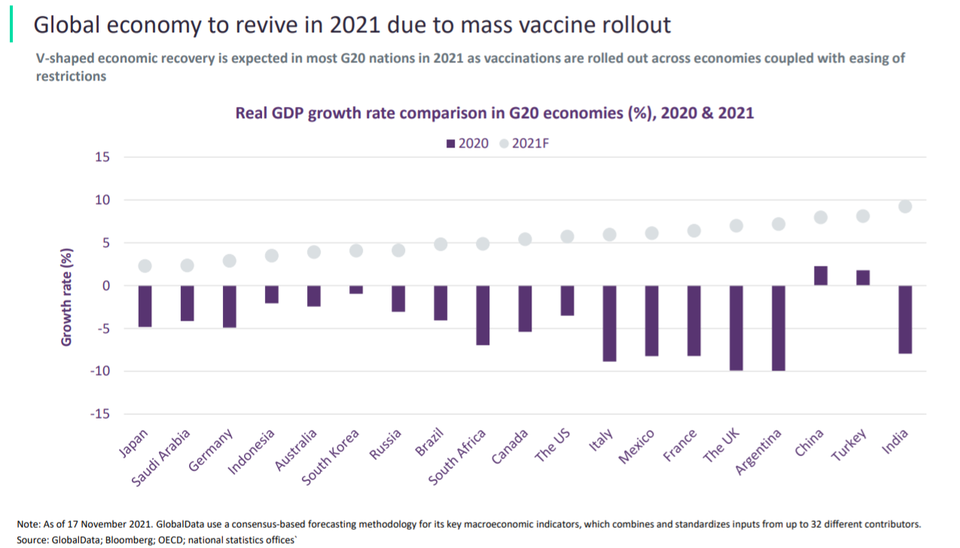 - SECTOR IMPACT: POWER -
Latest update: 3 November
COAL
In 2020, coal demand dropped by 220 million tonnes of coal equivalent (Mtce), or 4%. In 2021, coal demand has rebounded strongly, reversing the declines in 2020, though with major geographic variations.
GAS
The combination of continued lower prices and rapid growth in economies across Asia and the Middle East should drive growth of 3% in gas demand in 2021. As a result, global natural gas demand in 2021 is projected to rise 1.3% above 2019 levels.
OIL
In 2021, oil demand is expected to rebound by 6%, faster than all other fuels. The last time oil demand increased this rapidly was in 1976. Despite the strong rebound, oil demand remains 3% (3.1 mb/d) below 2019 levels.
RENEWABLES
Generation from wind and solar PV is set to grow by 17% in 2021, up from 16% in 2020, while renewables usage grew 3% in 2020. Two years of rapid growth means the share of renewables in total electricity generation will reach almost 30% in 2021, up from less than 27% in 2019.