- ECONOMIC IMPACT -
Many economists have cut their GDP forecasts. The 2020 consensus forecast for GDP growth is currently negative and many predict a recession.
Concern over the spread of Covid-19 is diminishing, business optimism continues to improve.
Fitch Ratings forecasts Mexico and Brazil's 2020 GDPs to contract by 9.1% and 7% respectively, then grow by 3.4% and 3.5% in 2021.
EY predicts the UK economy to take until 2024 to fully recover.
Impact of Covid-19 on employment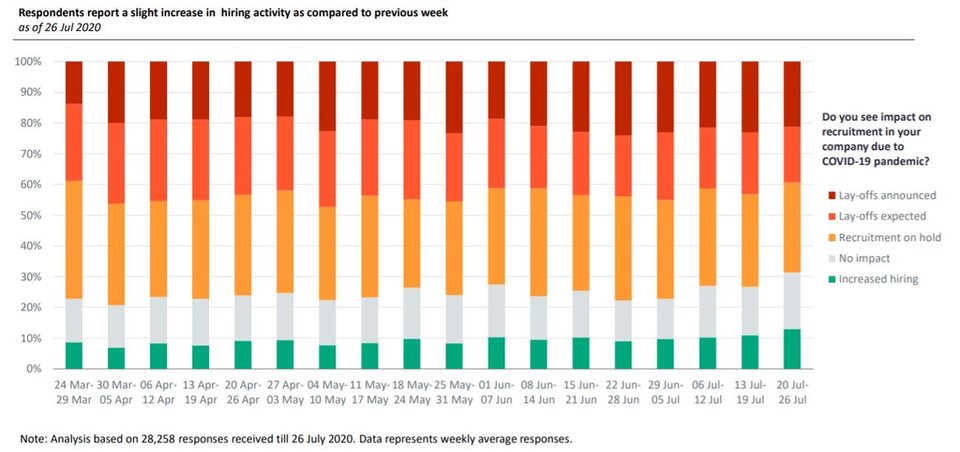 "There is increasing negative sentiment towards thermal power, specifically coal. Governments are promising to incentivise or extend deadlines for renewable projects, in the absence of large stimulus packages."
During H1 2020, generation in Europe was 6.2% lower than H1 2019. Renewable generation bucked the trend by growing 10.3%.
Between Jan – May 2020, US generation was 4.8% lower than the same period in 2019. Renewable and gas both grew in this period.
Coal-fired generation is expected to suffer the maximum decline, falling 10% in 2020. Gas-fired generation will similarly be hit hard, declining by about 7% for the year.
impact on supply chains and demand