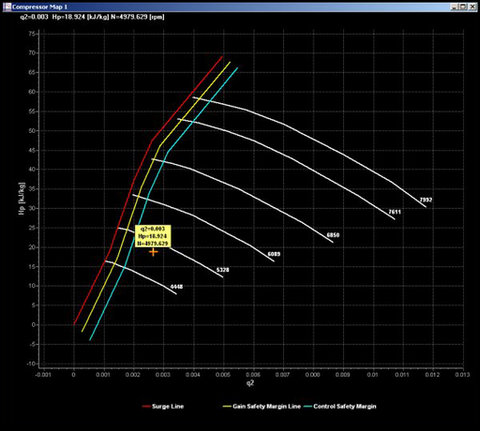 Design, Installation and
Commissioning of Turbo
Machinery Control Solutions
Continuous Control Solutions (CCS) provides turnkey solutions for process control, automation and real-time optimization. We offer the next generation of control technology and solutions, which includes services for the design, installation and commissioning of durable turbo machinery for industrial control applications. Our full control solutions are hardware independent and can utilize hardware platforms of customer's choice instead of a traditional "black box" approach.
The systems we provide are flexible and robust and can be customised to meet specific demands. We focus on the entire processes instead of just protecting machines, which ensures an engineering solution that remains continuous to meet the individual needs of a project.


Flexible solutions for turbo machinery control units
The flexibility we offer to customers is unique for them in the selecting of their IEC6113-compliant programmable logic controller (PLC) for the running of our turbo machinery control units. Differing from standard solutions, such as the gas / steam turbine control system provided by OEMs or the 'black box' compressor anti-surge solution, the control applications offered by CCS can be smoothly integrated with an existing distributed control system. Proof of us being at the forefront of providing flexible control solutions is in the adaption and incorporation of our patented control algorithms in off-the-shelf PLC products.
These products include:
> Honeywell
> Siemens
> Allen Bradley
> ABB

> Yokogawa

> Emerson
> Wago

> HIMA


Gas turbine fuel controllers for speed and power regulation
CCS's gas turbine fuel controller (GTFC) offers economical and versatile means of controlling aero-derivative and industrial gas turbines. It regulates the power and speed of the unit, protecting it from high pressures, speeds and temperatures. In addition, it sets the sequences of fuel flow during start-ups and shutdowns. The GTFC offers an economical solution to fault tolerance and is available for both single and multi-shaft turbines. When carrying out an upgrade to the control systems for many gas turbines, it is often necessary to also change the fuel system pumps, valves and other relevant parts. However, with the GTFC, the customer is provided with a design that is compatible with their turnkey installation and fuel-control system. The GTFC and fuel system can be installed on new applications or retrofitted.
The GTFC offers automatic sequencing for start-up and shutdowns, including the warm-up and cool-down of turbines, strict control of fuel ignition flow, custom acceleration and avoidance of the critical zone.


Customised PC, PLC and DCS system controls
The retrofit programs we create and install are customised to meet the individual needs of your company. Solutions include modelling and simulation, as well as lump sum turnkey (LSTK) integrated plant controls.
Our experienced engineers work closely with our customers to develop controls for PC, DCS and PLC systems that are customised to meet the specific demands of a project. Crews work throughout the day and night to keep equipment and machinery functioning correctly, ensuring safety and efficiency.
The control applications and customised solutions we provide include:
> Parametric diagnostics
> Sequencer and electronic software distribution (ESD) system
> Surge prevention control
> Station control
> Efficiency comparator
> Control of speed and fuel
> Control system human-machine interface (HMI)
> Station optimization
> Periodical and critical archive
> Load balancing
Machinery control systems for gas turbines
We ensure our customers have complete control of their drivers - such as gas and steam turbines, and generators - through the use of our experience, research and data analysis to design suitable applications.
To produce controls to meet exact specifications, we combine our patented algorithms with top-of-the-range hardware and software, with compatibility with existing operating systems ensured. Our mechanical-hydraulic modifications and digital controls increase the reliability of your system and bring down operational costs.
Surge prevention controller for centrifugal and axial compressor protection
Our patented surge prevention controller (SPC) ensures that your axial and centrifugal compressors remain protected from damaging surges that could prove costly and lead to downtime. This item allows the customer to specify the safety line under variable conditions, which provides optimised surge protection, while preventing needless recycling or blow-offs. It offers two independent control loops, Rc and dP. During normal operations, CCS systems offer a high-select mode and control based on the most efficient variable. If at any point in the process either measurement becomes unavailable, CCS provides continuous control through automatically controlling the available control loop. The controller offers a fully-integrated multi-loop, multiple-body compressor surge control on any IEC61131-compliant hardware, which removes the need for an expensive 'black-box' solution.
Station controller for load-sharing compressors and multiple compressor train balancing
With the CCS's station controller (SC), customers have the option for a series of operational modes to improve the speed and efficiency of the compressor, as well as reducing the amount of fuel the station consumes.
11275 Aurora Ave.
Des Moines, IA 50322 - USA
Primary Phone: 1 (515) 278-9655
Fax: 1 (515) 278-9686