Asia-Pacific's power industry saw a drop of 40.68% in deal activity during October 2022, when compared with the last 12-month average, led by the APA Group's $479.35m acquisition of Basslink, according to GlobalData's deals database.
A total of 35 power industry deals worth $1.5bn were announced for the region in October 2022, against the 12-month average of 59 deals.
Of all the deal types, mergers and acquisitions (M&As) saw the most activity in October 2022 with 16 transactions, representing a 45.7% share for the region.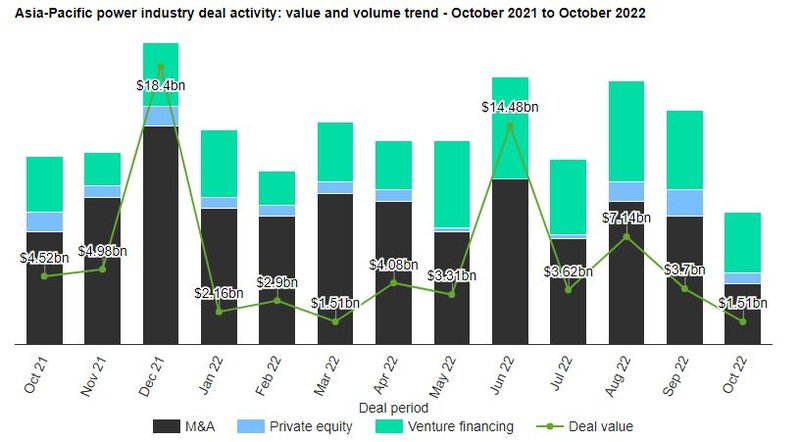 In second place was venture financing with 16 deals, followed by private equity deals with three transactions, respectively capturing a 45.7% and 8.6% share of the overall deal activity for the month.
In terms of value of deals, venture financing was the leading category in Asia-Pacific's power industry with $511.13m, while private equity and M&A deals totalled $499.44m and $495.87m, respectively.
The top five power deals accounted for 92.6% of the overall value during October 2022.
Top deals in October 2022
The combined value of the top five power deals stood at $1.39bn, against the overall value of $1.5bn recorded for the month.
The top five power industry deals of October 2022 tracked by GlobalData were:
APA Group's $479.35m acquisition deal with Basslink.
The $473.9m private equity acquisition of Shizen Energy by Caisse de depot et placement du Quebec.
A joint venture led by ABC International and the China Construction Bank entering into a $277.84m venture financing deal with Xiamen Haichen Energy Storage Technology.
The $137.78m venture financing deal involving Hebei Kuntian New Energy and a joint venture led by China International Capital and GF Qianhe Investment.
Neev Fund II's $25.54m venture financing deal with Hygenco Green Energies.