Sponsored by Machine Applications Corporation
High temperature moisture measurement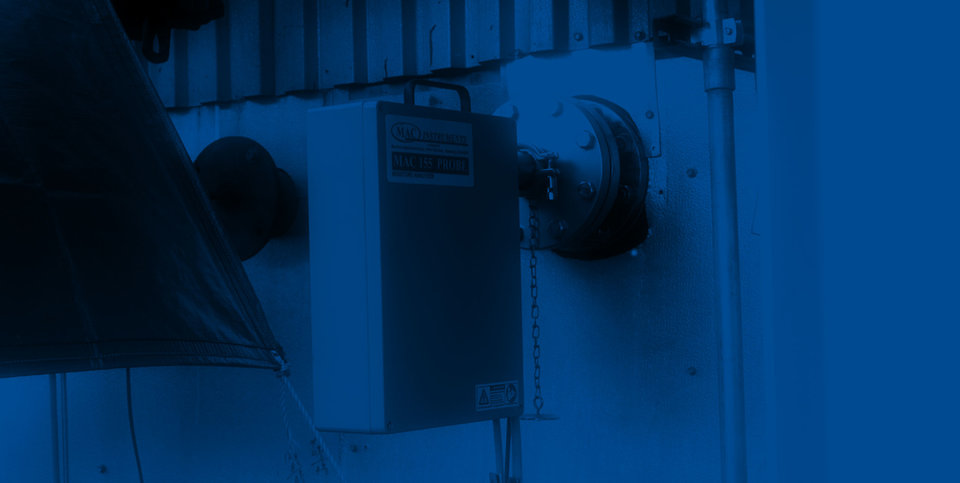 Machine Applications has been manufacturing instruments for measuring moisture in high temperature, industrial applications since 1990. Our instruments feature a rugged design meant to withstand harsh industrial environments as well as outdoor installations. We have been delivering high temperature moisture monitoring equipment all over the world.
Our instruments respond directly to the vapor pressure of water. They do not measure oxygen and then calculate moisture based on the measured oxygen level. Our moisture analyzers are also measuring the absolute humidity and not the relative humidity, which can be very problematic above 100 deg C(212 deg F).
The MAC125 and MAC155 moisture analyzers come in a variety of configurations to meet your moisture monitoring needs. From high ambient temperature installations to large stack annuluses that require a long probe to penetrate into the stack wall, we have a solution to suite your requirements.
Whether you are looking for process control or emissions monitoring we can help.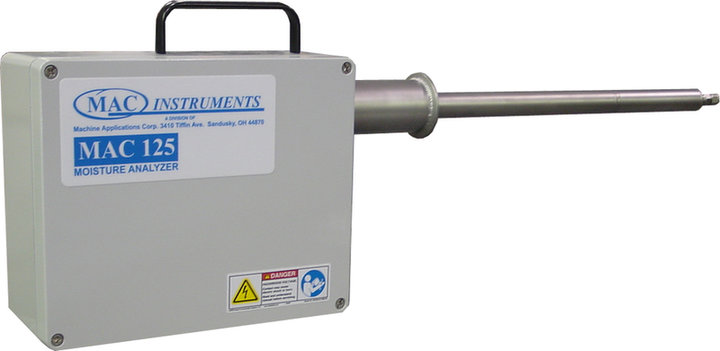 Our moisture analyzers are used in a variety of processes including:
Stack Emission Monitoring:
Coal fired power plants
Cement manufacturing kilns
Refineries
Incinerators
Blast furnaces
Gas Turbines
Product Drying:
Paper
Food/Seed
Metal parts
Gypsum Board/Drywall
Metals Processing(Special Atmospheres):
Annealing
Surface Treatment
General Industrial:
B.O.F. (Basic Oxygen Furnace) Precipitator
Large Fuel Cells
Other industrial Processes
Cooking/Baking:
Moisture control in food processing oven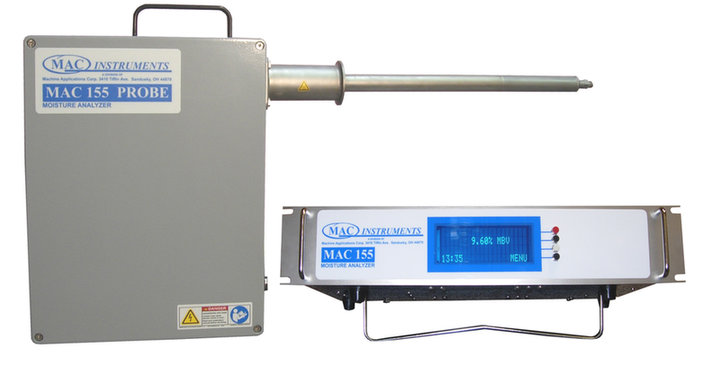 Our instruments are manufactured to measure moisture in process gas streams of up to 1300 deg C (2400 deg F.) They are also designed to continue working while being exposed to combustion by-products such NOx and SOx. Both the MAC125 and MAC155 are designed to operate in high particulate environments with our filter blow back options.
The MAC155 moisture analyzer was designed specifically to meet Continuous Emissions Monitoring standards set by many environmental regulatory agencies that require a daily two point calibration check in-situ. The instrument has an internal calibration system to generate known moisture samples to challenge the sensor with. This eliminates the need for gas cylinders of sample gas and the piping necessary to get the sample to the instrument.
The MAC125 moisture analyzer is designed for process control applications that do not require the daily two point calibration.
Machine Applications has made ease of use a priority. Our moisture analyzers are very easy to install. Once the mounting tube or ANSI flange mounting adapter has been installed and the wiring run, our instruments simply clamp in place and connect to the wiring with the provided weather tight connectors.
Machine Applications also manufactures steam flow rate meters and transmitters for monitoring steam flow into open atmosphere for flow rates up to 2500 kg/hr (5000 lb/hr.)