IHA CEO Eddie Rich discusses the San José Declaration on Sustainable Hydropower
The World Hydropower Congress concluded with the San José Declaration on Sustainable Hydropower, which will be presented to leaders at COP26. Julian Turner talks to International Hydropower Association CEO Eddie Rich about the policies, practices and perception of hydropower and its role in the clean energy mix.
T
hroughout November the eyes of the world will turn expectantly towards the UK and the 26th UN Conference of the Parties (COP26). The long-awaited summit is uniting more than 200 concerned parties, from national governments and businesses to NGOs, to accelerate action towards achieving the goals of the 1992 UN Framework Convention on Climate Change and the 2015 Paris Agreement.
Among the delegates donning their lanyards will be Eddie Rich, CEO of the International Hydropower Association (IHA), who will lead a delegation that includes former Australian premier Malcolm Turnbull.
The IHA's mission in Glasgow is two-fold: firstly, to present the San José Declaration on Sustainable Hydropower, a recent declaration published at the conclusion of the World Hydropower Congress of how the industry can advance sustainable hydropower's role in a clean energy future and help the world meet its climate goals.
Second, Rich and his colleagues hope to issue a wake-up call to their fellow delegates, especially government representatives, emphasising the need for urgent, collaborative action on behalf of all stakeholders in order to achieve net zero.
"COP26 is not just about promoting IHA, or even the hydropower industry: it is really trying to see how we can be part of a collective effort to tackle climate change," he says. "Sustainable hydropower – and by that we mean clean, green, modern and affordable hydropower – has to be part of that journey.
"We need to wake up to the fact that if we focus just on wind and solar without thinking about back-up power, then the energy transition will stall just at the moment when it should be accelerating."
Storage, flexibility and environmental impact
Rich is referring to the ability to store power in the form of water, which can be pumped up into the reservoir when excess electricity is available, then released on demand to generate power where and when it is required. IHA figures show that pumped storage hydropower provides 94% of the world's battery storage, making it an invaluable partner to more variable wind and solar power.
For these reasons, renewable hydropower looks likely to undergo a qualitative shift over the coming decades. While it will continue to provide low cost, baseload electricity in many markets – hydro remains by far the largest source of renewable electricity, supplying approximately 16% of global power in 2019 – it will increasingly be valued for its flexibility and provide essential support to the huge growth in alternative renewables like wind and solar that is needed to limit global warming.

As Rich points out, in the UK price floors and guaranteed prices are two of the mechanisms that have been employed with some success in order to incentivise utilities to provide storage and flexibility.
"There is no beauty contest going on between the renewables, we need more of all of them," says Rich. "I would love to see more wind and solar, and more green hydrogen, coming onto the system."
Hydropower's potential to support the production of green hydrogen and other clean sources is one of the key takeaways from the San José Declaration, whose aim, to paraphrase Rich, "is to reset the policies, practices and perceptions of the sector", including its controversial environmental record.
CO2 caused by forest clearance to make way for dams, the release of methane from fermenting vegetation in reservoirs, and flood damage to ecosystems when creating reservoirs to generate electricity in storage and pumped storage hydro systems are just some of the criticisms levelled at the industry, as well as the forced displacement of communities to make way for hydro plants.
/ The key takeaway from the San José Declaration is that, going forward, the only acceptable hydropower is sustainable hydropower. /
"Big hydro does have a perception problem," agrees Rich. "Big or small, for me, the key takeaway from the San José Declaration is that, going forward, the only acceptable hydropower is sustainable hydropower.
"The San José Declaration, for example, includes commitments to not develop new hydropower in World Heritage sites, net-positive construction in protected areas, and decommissioning reviews if plants no longer provide benefits to society.

As an industry, we have also developed a set of robust environmental, social and governance aspects (ESG) guidelines that allow us to assess each project against best international practice, which led to the launch last month of an independently assessed standard by a broad coalition of civil society, industry, government and financial institutions.
"This means hydropower projects will qualify for green bond financing, which sends an important signal to the wider market that hydropower represents a long-term sustainable investment."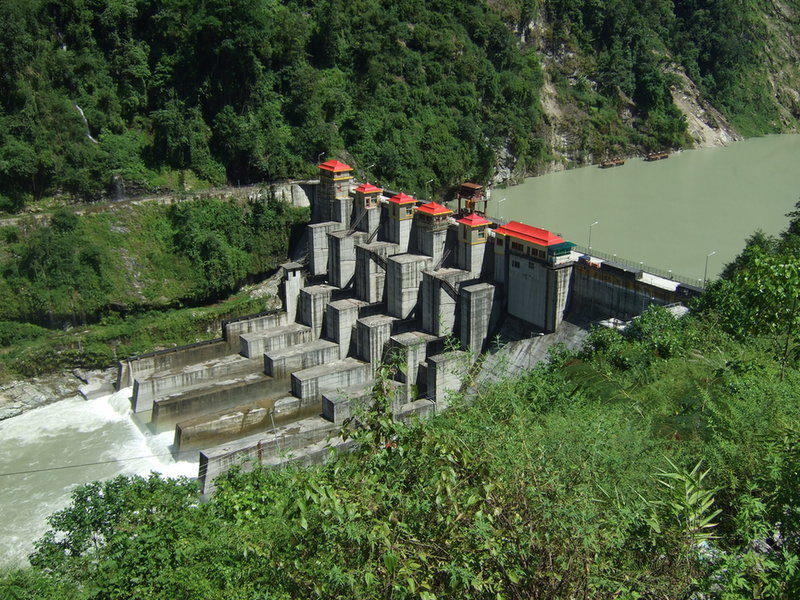 NHPC's Teesta-V project in India was awarded the IHA Blue Planet Prize at the World Hydropower Congress. Credit:Image courtesy of IHA
Doubling hydropower capacity by 2050
On the key topic of the carbon footprint of hydropower projects, IHA claims hydropower has helped to reduce global emissions from fossil fuels and industry on a huge scale. These would be significantly higher if electricity from hydro had been provided by coal.
"Replacing existing hydropower with coal-fired generation would result in up to four billion more metric tonnes of greenhouse gases being released annually, that's an increase of around 10%," says Rich.
The IEA emphasises in its 2021 'Net Zero by 2050' report that global hydropower capacity needs to at least double (to around 2,600GW) by 2050 in order to help limit the global temperature rise to 1.5°C. This is echoed by the International Renewable Energy Agency, which also calls for installed capacity to be more than doubled by mid-century. Rich says retrofitting brownfield sites and hybridisation can help make this happen.
/A lot of the increase in future hydropower capacity can be done through modernisation, retrofitting dams, and through more hybridisation. /
"A lot of the increase in future hydropower capacity can be done through modernisation, retrofitting dams, and through more hybridisation, all of which barely involve any further emissions," he says.
It should also be noted that most dams worldwide – around 78%, according to Rich – are not used for hydropower, but for storing water or as flood protection. In the US, that figure is close to 97%.
"In addition, a lot of existing power plants are more than 30 years old, and there all sorts of electrical, mechanical and digitalisation improvements that we expect will make a substantial difference in terms of capacity," he says. "In addition, the Australian National University has identified 600,000 sites globally suitable for off-river pumped storage hydropower sites [which don't require damming rivers nor affect aquatic ecosystems]."
New perspectives, holistic solutions
We end where we began, with COP26. What expectations does the IHA have for the conference?
"At the moment, policies and the markets reward energy generation; they don't reward the things that make our grid flexible, balanced, and stop us having blackouts," Rich states. "Therefore, it is very important that policymakers take a holistic approach to energy provision, in the form of targets that support and incorporate clean, flexible electricity generation, including sustainable hydropower.
"IHA would also like to see other appropriate support in the form of tax relief or concessional loans to ensure projects are bankable, as well as streamlining the approval process. At present it takes seven to ten years to build a hydropower plant, but only two to three to build a gas plant, meaning governments are more likely to choose the latter, especially during an election cycle."
/ You need to plan for the long term, otherwise, we face blackouts or a return to fossil fuels. /
Rich's final point addresses the existential threat posed by climate change – and the importance of long-term planning that prioritises renewable generation, grid stability and security of supply.
"The latest data from the Intergovernmental Panel on Climate Change tells us that the world is on red alert," he says. "Our central message to governments and businesses is therefore this: you need to plan for the long term, including long-duration energy storage; otherwise, we face blackouts or a return to fossil fuels."
Main image: International Hydropower Association CEO Eddie Rich. Credit: Image courtesy of IHA