The global power industry experienced a 3% rise in new job postings related to environmental sustainability in Q4 2022 compared with the previous quarter, according to GlobalData's Jobs Analytics. This compares to a 61% increase versus Q4 2021.
Notably, management jobs accounted for a 21% share of the global power industry's environmental sustainability-related total new job postings in Q4 2022, up 4% over the prior quarter.
Architecture and engineering occupations came in second, with a share of 16% in Q4 2022, with new job postings rising by 5% over the previous quarter. The other prominent environmental sustainability roles include installation, maintenance and repair occupations with a 12% share in Q4 2022 and computer and mathematical positions, with a 10% share of new job postings.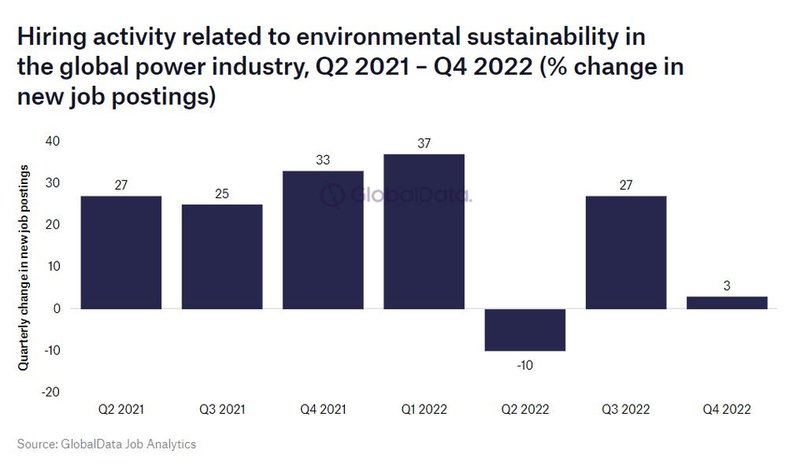 The top companies, in terms of number of new job postings tracked by GlobalData, as of Q4 2022 were NextEra Energy, Algonquin Power & Utilities, Umicore, Hitachi Zosen Inova and the ERM Group. Together they accounted for a combined share of 25% of all environmental sustainability-related new jobs in the power industry.
NextEra Energy posted 3,173 environmental sustainability-related new jobs in Q4 2022, Algonquin Power & Utilities 2,735 jobs, Umicore 2,104 jobs, Hitachi Zosen Inova 1,965 jobs and the ERM Group 1,320 jobs, according to GlobalData's Job Analytics.
The largest share of environmental sustainability-related new job postings in the power industry in Q4 2022 was in the US with 62.83% followed by Canada (7.04%) and the UK (6.47%). The share represented by the US was four percentage points higher than the 58.64% share it accounted for in Q3 2022.