Beyond smart cities: powering new grids
The world's largest cities have tried to smarten up, using technology and data to optimise power generation and distribution. Now, a new tier of cities will use these technologies in their foundations. Matt Farmer takes a look at the super cities under construction that will redefine urban power.
T
he next generation of super cities promise to be "smart by design". New technology allows optimisation efficiency at all levels, without any hangovers of outdated technology.
At this moment, the next generation of super cities are taking shape, promising new scales of urban efficiency and extravagant living. If builders and engineers match the plentiful promises of planners, these cities would become beacons to all others. However, words are cheap, while new cities are extremely expensive.
World leaders presiding over a rapidly growing population, an evolving economy, and a healthy budget hope their super city will improve the country's global standing. Some projects have relied on old generation methods, while others have emphasised their ambition before laying the first breeze block. How will new super cities innovate on power architectures?
Neom, Saudi Arabia
In the age of the climate crisis, new cities often aim to become beacons of sustainable living. In the north-western tip of Saudi Arabia, the Neom project has put energy and technology very literally at the base layer of plans for a massive new city. However, spending more than $500bn would be difficult without investing in renewables somewhere along the line.
Perhaps unsurprisingly, authorities behind the project have put significant resources toward portraying Neom as a hub of the future. The name itself supposedly comes from fusing the Greek word for "new" and the letter M, representing the Arabic word for "future".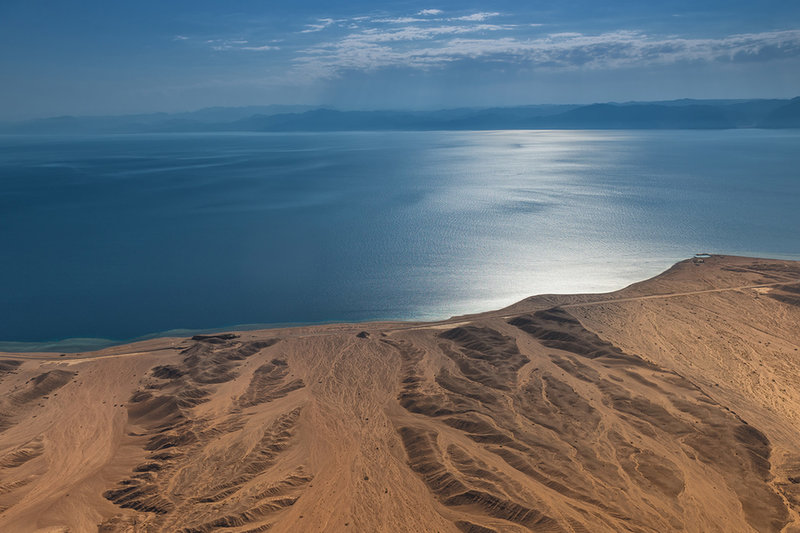 The future site of Neom, by the Gulf of Suez. Credit: NEOM
Lavish videos give sweeping shots of the site, emphasising the experience of its designers and the elevated goals of the city. Some speak of being able to "see, touch, and feel the renewable electricity around us", while others often use phrases such as "environmentally neutral" and "cognitive city".
The last of these promises an evolution of the "smart cities" concept that has started optimising some of the world's wealthiest cities. Neom aims to make these efforts look primitive, weighed down by bureaucracy and decades of history.
Cognitive cities: building on smart cities for power optimisation
Unusually, the city's district would form small clusters, linked by infrastructure in one 170km, west-to-east line. This line would sit on an infrastructure "spine", where its energy transmission network would lie.
The "cognitive city" will use 5G infrastructure and satellite links to give "ubiquitous connectivity" to its residents. The city itself will have a data centre to analyse its citizen's actions and optimise infrastructure, including power use.
This is a project that claims its new city will have less biodiversity impact than the villagers who previously lived on the land. Presentations promise "the cheapest and cleanest energy on earth"' and a "world record levelised cost of electricity", built on promising but presently empty land.
/ Presentations promise "the cheapest and cleanest energy on earth"' and a "world record levelised cost of electricity". /
The city's brochure promises an average wind speed of 10.3m/s, comfortably within the range of most wind turbines. In addition, 20MJ of solar energy beats down on every square metre, though the brochure does not specify whether this represents peak or average energy transfer.
Planners say the city will have a self-contained energy transmission grid, allowing residents to sell excess energy back to the grid using AI tools. Developers also plan to use these tools to ease maintenance and balancing.
As Neom head of energy Peter Terium writes: "Techniques using intelligent devices can be applied to alleviate power management difficulties and to confine faults in their originating areas.
"The addition of these devices however often results in control and protection coordination difficulties, and power oscillations between connected networks.

"To avoid this, individual subsystems, representing sources and loads, can be decoupled so that faults in any one system do not spread to others. This solution can be achieved by deploying direct current technology for both transmission and distribution grids."
/ Techniques using intelligent devices can be applied to alleviate power management difficulties and to confine faults in their originating areas. /
As part of this, planners have talked up the city's research and development of renewable technologies. At the time of writing, the NEOM project had posted job listings for microgrid control engineers, electrical designers, and electric vehicles leads.
The city's water will come from a seawater desalination plant, using solar heat for evaporation. In the future, the city's water "segment" plans to generate energy from wastewater.
At least 4GW of renewable power would go toward utility-scale hydrogen electrolysers ("the first on the planet") for domestic use and export. Air Products and ACWA Power have signed a $5bn deal to develop a green hydrogen plant in Neom. This would produce 650 tons of hydrogen per day, converting the gas into green ammonia for easier transport.
"New administrative capital", Egypt
Between ancient Cairo and the seaport of Suez, construction of Egypt's new capital city has almost finished. At least $300bn of spending has created a new city, designed to house approximately five million, from mostly empty desert. After years of planning, everything here is custom made, except the city's name.
From above, the city still looks like shadows in the sand, but on the ground, construction continues at a furious pace. The Egyptian Government plans to move its operations here before the end of 2021, though construction remains behind schedule, hindered by Covid-19.
While the capital sits only 45km from Cairo's centre, it remains distinct. The city contains Africa's tallest building, the 373m Iconic Tower. Construction on the top floors finished in June 2020, while planning on the 1km-tall Oblisco Capitale continues.
/ More than 80% of Egypt's power comes from natural gas, with less than 10% coming from renewables. /
The country's largest mosque and cathedral have already opened, and landscaping continues on a 35km-long park flowing through the city. Diplomats and residents will move around the city using electric public transport, all powered by a surprisingly traditional power plant.
More than 80% of Egypt's power comes from natural gas, with less than 10% coming from renewables. The country aims to increase its renewable capacity as part of its 2030 Vision project, of which the New Administrative Capital forms a part. Despite this, the country recently finished a massive expansion to its gas power generation.
Egypt's Government contracted Siemens with the simultaneous construction of 12 gas turbine blocks, for three power plants, over two and a half years. These three plants gave a nationwide capacity boost of 16.4GW. One of the plants, generating 4.8GW, will power the new capital. Cairo Electricity Production Co. developed the plant, while Siemens supplied turbines.
New cities, old solutions, and the transition between
Government websites say that the capital project aims to relieve congestion in Cairo. It continues: "[The city] is already one of the world's most crowded cities. Greater Cairo's population is set to grow to 40 million people by 2050."
Although measurements vary, estimates place the city's current population density at approximately 15,000 people per square kilometre. This would give it a density around three-quarters that of Paris, similar to that of India's financial capital, Mumbai. However, Cairo is growing at almost twice the rate of Mumbai, leading to strains on existing infrastructure.
Approximately one in five Egyptians live in Cairo. The plan to ease congestion and spread the city's wealth has resulted in the New Administrative Capital, but also led to at least two other new settlements.
New Galala City, a smaller urban area constructed by the Suez Gulf, aims to attract students and tourists to the east of the new capital. In the county's north, the New Alamein project promises to "reduce the residential burden" on Cairo. This city would remain more open than other beachside resorts, while also focusing on trade. Its first stage will house three million people over 32 square kilometres.
/ Greater Cairo's population is set to grow to 40 million people by 2050. /
In these cities, the energy transition becomes more obvious. Siemens provided transformers for upgrades to the Attaqa hydroelectric plant, which will power New Galala. A pumped hydro reserve will generate up to 2.4GW when construction finishes. Wind farms to the north of the project will also supplement the growing city.
Meanwhile, a 120km gas pipeline runs into New Alamein, at a cost of $127m. The pipeline will allow petrochemical development in the city, although gas will not become the city's only fuel. Reports suggest that New Alamein would use up to three hybrid power plants.
Furthermore, after years of talk, construction has started on the country's first nuclear plant, not far from New Alamein. Rosatom will develop the El Dabaa nuclear plant, scheduled for commissioning in 2026.