- ECONOMIC IMPACT -
The daily hospitalisation rate for people in the US and Israel has stabilised, and has then subsequently decreased.
Vaccine hesitancy, new variants and the removal of social distancing have increased hospitalisations in the US and Israel.
The UK leads the world's "top economies" in testing, with over seven million tests per million people
Brazil leads the world's "top economies" in positive test rates, with close to half of people tested testing positive
Spread of covid-19 around the world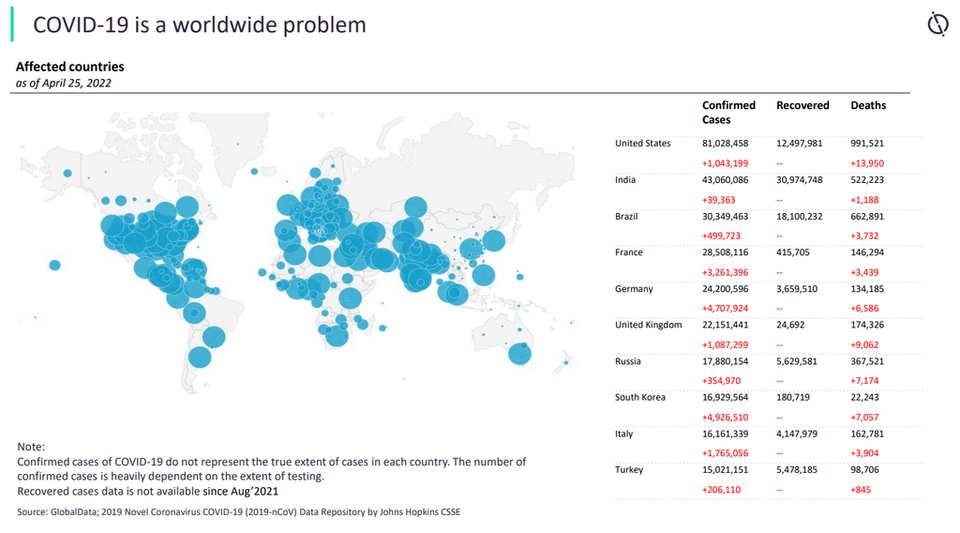 Thermal capacity is expected to go down in the short term and renewable capacity to see a significant increase. In the future, there is expected to be a significant shift in power mix towards renewables, with offshore wind and solar to drive capacity addition.
Equipment manufacturers and vendors
In the short-term, thermal equipment manufacturers will need to diversify into renewables to maintain their revenue stream. Beyond this, project owners may try to mitigate risks by GLOCAL sourcing.
TRANSMISSION, DISTRIBUTION AND RETAIL
TSOs will need to revise their plans in accordance with renewable capacity addition in the near term. There will be new demand for electric vehicles and data centres in the short term. Beyond this, distribution utilities will need to make increased investments in technology.
Renewables and hydrogen-focused EPC companies could benefit from high demand in the near term. In the long term, new business opportunities will emerge from renewables, hydrogen, energy storage and distributed generation.