- ECONOMIC IMPACT -
China is the "top economy" with the highest percentage of the population receiving Covid-19 vaccinations, with 89.6% of people receiving at least one dose, and 88.9% of people receiving two doses
Gibraltar is one of three countries with a vaccination rate of more than 100% – alongside Samoa and Pitcairn – with a vaccination rate of 122.9% of the population. This is due to the fact that many non-Gibraltarian nationals have been vaccinated in the country
The UK leads the world's "top economies" in testing, with over seven million tests per million people
Brazil leads the world's "top economies" in positive test rates, with close to half of people tested testing positive
Booster dose penetration around the world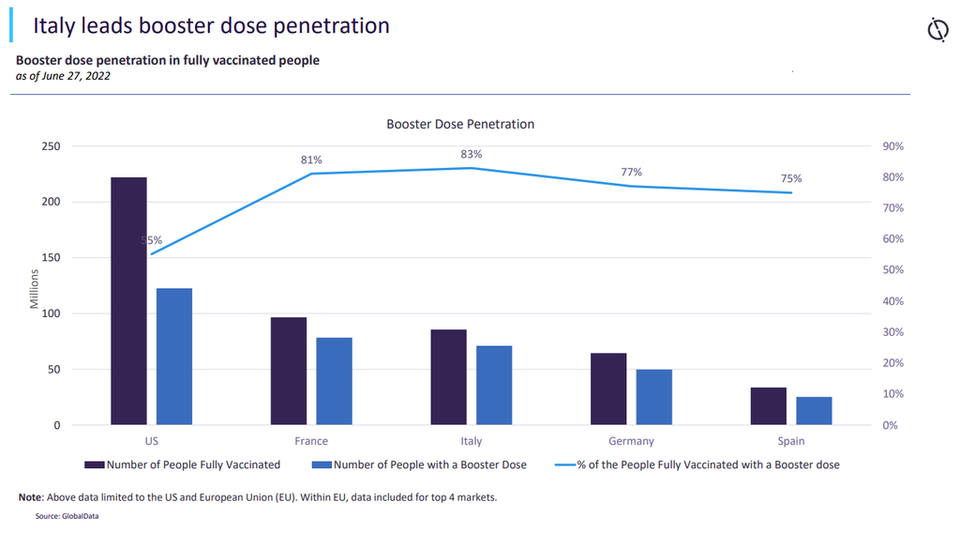 Net-zero economic recovery
In the US, President Biden's Climate Plan is set to achieve net-zero emissions on electric power by 2035 and net-zero emissions across the board by 2050 or before. More than $555bn has been pledged to bolster the deployment of renewable energy such as solar and wind.
Growing Electricity Demand
Sustained recovery in electricity demand for most countries has brought the demand close to 2019 levels. Countries like India and China have seen a much faster rebound and demand has risen to levels above that in 2019.
Germany will invest $10bn to support the research and development of hydrogen technology. India announced a National Hydrogen Mission that will draw up a roadmap for using hydrogen as an energy source and France earmarked $8bn by 2030 for the expansion of hydrogen production.
Electric vehicle innovation
The US plans to build 500,000 EV charging stations. South Korea has offered $17m in green car subsidies in 2021 and up to $33.5m for hydrogen fuel-cell electric vehicles. The subsidies will be extended until 2025.