- ECONOMIC IMPACT -
According to the OECD, the unemployment rate in OECD nations stood at 5.3% in January 2022, unchanged from the previous month, compared to 4.4% in G7 nations.
According to the US Labor Department, 678,000 jobs were added in February 2022, with the unemployment rate declining to 3.8% from 4% in the previous month in the US.
India's projected real GDP growth rate in 2022 is among the world's highest, averaging around 7.6%
The UK's 2022 real GDP growth forecast has fallen from 4.2% to 3.6%, less than half of the 2021 growth rate of 7.5%
Impact of Covid-19 on eCONOMIC RECOVERY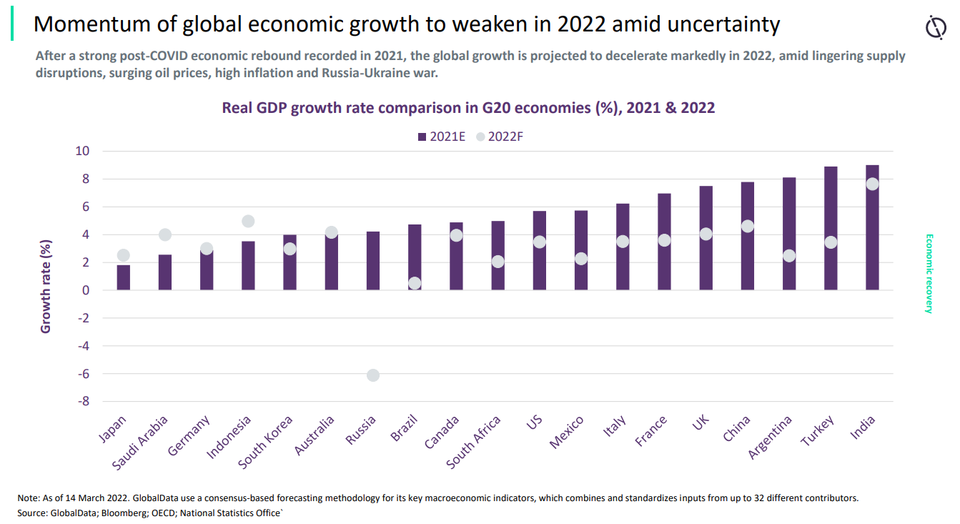 COAL
In 2020, coal demand dropped by 220 million tonnes of coal equivalent, or 4%. In 2021, coal demand has rebounded strongly, reversing the declines in 2020, though with major geographic variations.
RENEWABLES
Generation from wind and solar PV is set to grow by 17% in 2021, up from 16% in 2020. Two years of rapid growth means the share of renewables in total electricity generation will reach almost 30% in 2021, up from less than 27% in 2019.
Renewables usage grew by 3% in 2020, largely due to an increase in electricity generation from solar PV and wind of 330TWh.
OIL
In 2021, oil demand is expected to rebound by 6%, faster than all other fuels. The last time oil demand increased this rapidly was in 1976. Despite the strong rebound, oil demand remains 3% (3.1 million barrels per day) below 2019 levels.
GAS
The combination of continued lower prices and rapid growth in economies across Asia and the Middle East should drive growth of 3% in gas demand in 2021. As a result, global natural gas demand in 2021 is projected to rise 1.3% above 2019 levels.